Alleged pricing for Galaxy S20 FE 5G in Canada leaks
2 min read
The Samsung Galaxy S20 FE leaked in a 360-degree video last week. The Galaxy S20 FE isn't exactly a rebranded S20, it's meant to be a successor to the Galaxy S10 Lite. It was previously reported that the Galaxy S20 FE would arrive in six different color options and in both 4G and 5G variants. The latest report from DealNTech shows leaked pricing for the S20 FE 5G in Canadian Dollars.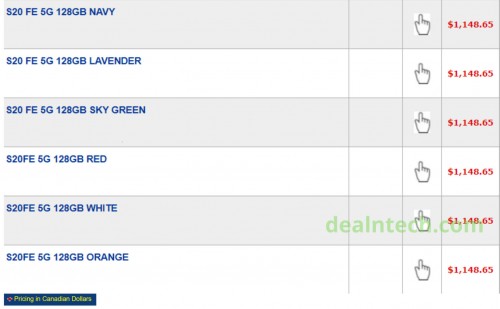 A database revealed a price of CAD 1,148.65 for the Samsung Galaxy S20 FE. This converts to roughly USD 876 but we might see an even lower price, should this device make it to the US market. The listed color options in the report are Navy, Lavender, Sky Green, Red, White, and Orange. These are the same colors that we saw leaked by @evleaks earlier on Friday.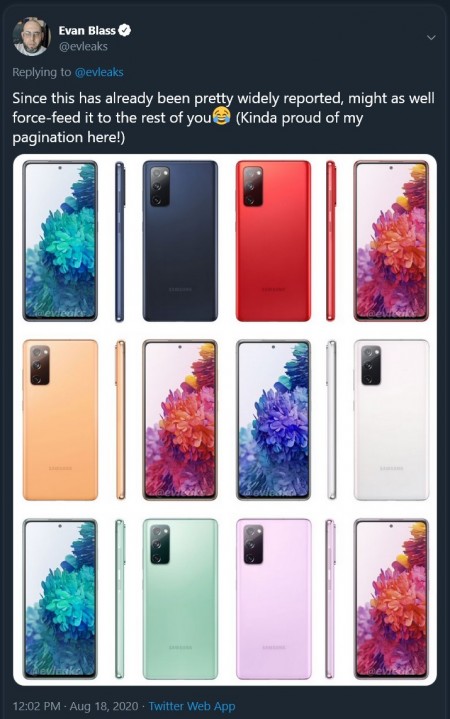 The Samsung Galaxy S20 FE will come in both 4G and 5G variants, depending on the market (still no work on whether it will use Snapdragon 865 or Exynos 990 chipsets). It will be roughly the same size as the Galaxy S20+, but with slightly larger bezels and a slightly smaller display measuring out to about 6.5-inches and with the rounded corners a bit tighter and not as curvy.
The triple camera system is said to be made up of a 12MP main camera, a 12MP ultra wide, and an 8MP telephoto one. IP68 is expected, and the phone will reportedly arrive with a 4,500 mAh battery. The Galaxy S20 FE is expected to arrive sometime in October.