It seems that the hotly-anticipated Bose Noise Canceling Earbuds 700 may actually become a part of the QuietComfort series – Australian retailer Harvey Norman jumped the gun on publishing a promo video, which revealed the new name and some details.
The previous TWS headset, the Earbuds 500, have been renamed "Sports Earbuds". These were expected in late 2019, but the launch got pushed back. Similarly, the Earbuds 700 were supposed to be out already, however there that plan was delayed as well.
Anyway, the Bose QuietComfort 700 video has been removed, but someone made a copy and uploaded it to YouTube. Just in case that gets pulled too, there are a few frame grabs below.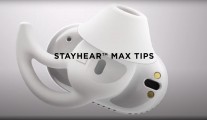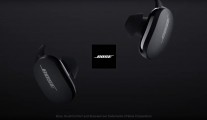 Bose QuietComfort 700 TWS headset (formerly "Bose Noise Canceling Earbuds 700")
The video shows the QC 700 TWS headset in both Black and White. It claims that this headset boasts "the world's most effective noise canceling" technology for "crisp, clear audio and rich, deep base". Battery life is advertised as "up to 6 hours". The buds are sweat and weather resistant.
Considering how eager the retailer is to promote the new Bose headset, the official launch can't be far.