The Google Pixel 4a 5G is coming soon alongside the Pixel 5. Both phones are expected to carry over the basic design of the recent Pixel 4a though with the Snapdragon 765G at the helm. The Pixel 5 is also touted to carry a dual-camera setup and now we learn that the 4a 5G will also come with two rear shooters alongside a display in the 6.1-6.2 inch range.
Tipster @OnLeaks has provided new renders for the Pixel 4a 5G complete with its measurements which come in at 153.9 x 74.0 x 8.6mm. For comparison, the Pixel 4a comes in at 153.9 x 74.0 x 8.6mm.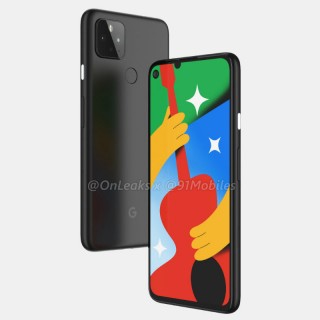 Google Pixel 4a 5G
We can see the overall design is quite similar to the Pixel 4a, with a punch-hole cutout in the top left corner, rear-mounted fingerprint scanner, USB-C port and a headphone jack on the top. The camera bump is slightly larger to accommodate the second ultrawide shooter. The phone will also retain the plastic body of the 4a.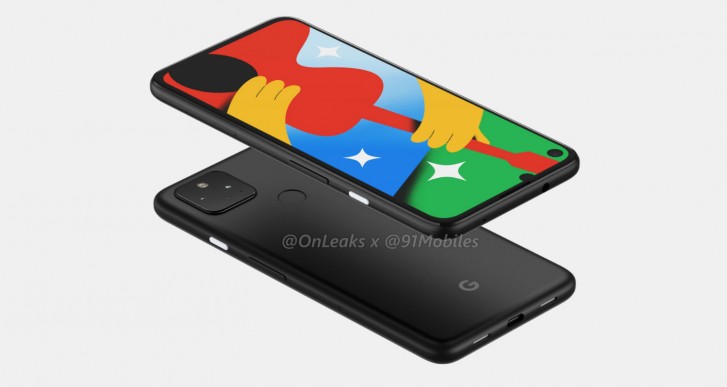 Reddit user theyankun (whose profile appears to be suspended) managed to provide a side-by-side image of both the Pixel 5 and 4a 5G alongside their key specs. We can see the clear size difference between both as well as their identical designs.
The Pixel 5 will carry a 5.8-inch 90Hz AMOLED display, Snapdragon 765G and 8GB RAM. Around the back, we're expecting the same 12.2MP main shooter from the Pixel 4a alongside an ultrawide lens. The battery is stated to come in at 4,000 mAh, which would make it the largest cell ever in a Pixel phone. Sadly, it will not come with a headphone jack.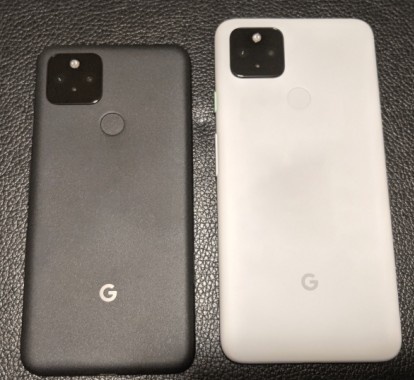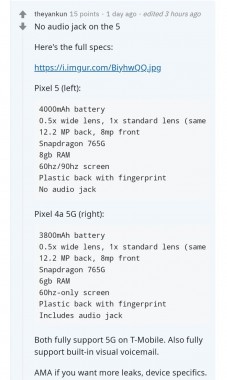 Pixel 5 (black) and Pixel 4a 5G (white) alongside their specs
The 4a 5G will stick to a 60Hz AMOLED panel and will come with 6GB RAM and a smaller 3,800 mAh battery. The rest of the specs match the Pixel 5 and both models are expected to come with 128GB storage as standard.