Oppo patent shows a clamshell foldable with the screen on the outside
2 min read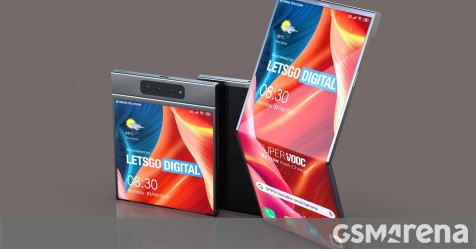 Well over a year ago Oppo demonstrated a prototype foldable phone at the MWC, however nothing came of it. Since then multiple patents have surfaced, revealing various designs that the company is experimenting with. The latest design to crop up is a clamshell, kind of like an inverted Moto RAZR, and it has an interesting feature – angle detection.
The phone is designed to fold with the screen remaining outside. Folded, it's fairly compact and squarish, but doesn't need an external screen like the RAZR. It's more similar to the RAZR rather than the Galaxy Z Flip as one half is slightly shorter. This leaves the "forehead" always uncovered (the Moto foldable had a "chin" housing the fingerprint reader).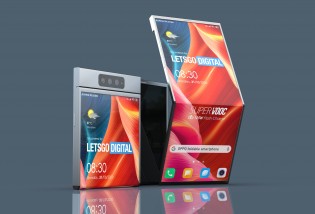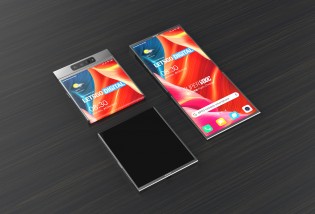 3D renders based on an Oppo patent for a foldable phone
This "forehead" is shown housing the camera (as it's the thickest part). It can be used when the phone is folded as either rear or selfie cam. Once unfolded, it's a rear cam. The prototype that Oppo showed at MWC 2019 was similar, except it was a horizontal folder (like the Huawei Mate X) rather than a vertical one.
The team at LetsGoDigital created several 3D renders based on the patent. Note that the patent revolves around the folding action and sensor, so the positioning of the cameras and other unrelated elements involves a bit of guesswork.
Oppo designed this phone to work in more than two states: there's "folded" and "unfolded", of course, but the angle sensor can detect the fold angle and adjust the UI accordingly. Like the Galaxy Z Flip, it can be put on a table half folded (kind of like a laptop).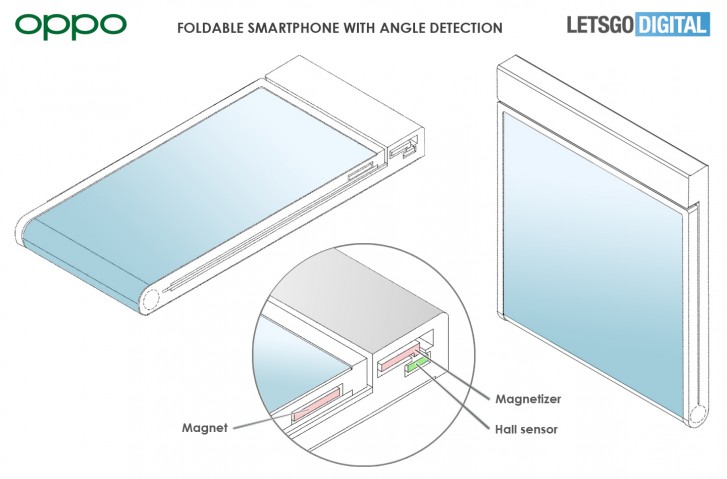 The patent also mentions a fingerprint reader (likely mounted on the thickest part of the device) as well as an iris scanner (as the FP reader may not always be in an easy to reach position).
The outward-folding design has advantages – no need for a second screen or additional cameras. And it doesn't bend the screen at too tight an angle like inward-folding designs. However, the biggest challenge is that the fragile screen is completely exposed. Oppo may be waiting on Corning and others to develop a durable, bendable glass to use in such designs.
Other Oppo patents have explored foldables with a single display and alternative camera placements, e.g. a pop-up camera. The company has also considered sliders with extendable displays as an alternative to the folding design.