Samsung Galaxy Z Fold2 in for review
3 min read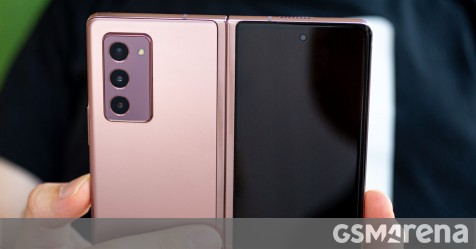 The Samsung Galaxy Z Fold2 is official and better yet, it's here at HQ and in our hands. And to say that it got us all excited might be an understatement.
Before we move to handling the phone, let's take a gander at the retail package. The first-gen Galaxy Fold came in a resplendent package with a two-piece plastic case with a carbon-fiber-like finish as well as a set of Galaxy Buds truly wireless earbuds. The Galaxy Z Fold2 comes with a rather poor by comparison set of accessories – a 25W charger, wired USB-C AKG earbuds, USB-C cable and some leaflets. No case, no TWS buds.
The leaflets give you very important instructions on how you should care for the Galaxy Z Fold2 – don't press on the screen with sharp objects or your fingernail, keep in mind the device isn't dust or waterproof and a few other warnings.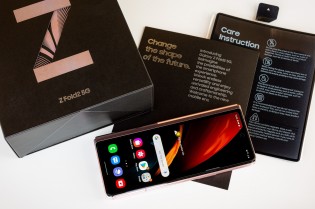 Unboxing the Samsung Galaxy Z Fold2
The Galaxy Z Fold2 comes with a pre-applied plastic screen protector on both screens and Samsung recommends you leave the one on the main screen on. The hinge is fitted with strong magnets, which could attract debris in your pocket or have a bad effect on any implantable medical devices users may have.
Moving on to the Galaxy Z Fold2's build we are glad to report it's of the highest standard. When folded it feels very rigid and solid. The Galaxy Z Fold2 has undeniably taken queues from the Galaxy Note20 Ultra – they share the Mystic Bronze hero color, the matte glass on the Fold2's only non-screen side, the sturdy frame.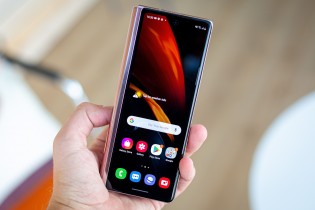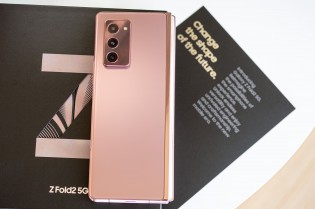 The device when folded
Now, let's look at the hinge as it is among the Galaxy Z Fold2's most interesting aspects. Samsung calls it the hideaway hinge and that's because it literally hides itself away when the Galaxy Z Fold2 is unfolded. It feels twice as robust as last year's Galaxy Fold's, and it looks twice as big too. It has a satisfying rigid feel throughout its range of movement and doesn't leave any doubt in its robustness.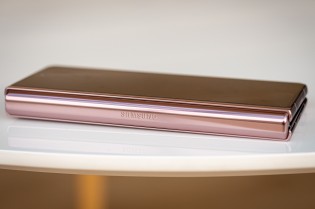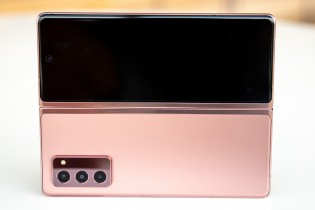 The hideaway frame
When you unfold the Galaxy Z Fold2 you're greeted by its 7.6-inch Dynamic AMOLED. Specs-wise it has a resolution of 2208x1768px, squarish 22.5:18 aspect ratio, and adaptive 120Hz refresh rate. It's a massive canvas for mobile content. You'll be struck by whatever you open on this screen because of the sheer size and the amazing quality.
The aspect ratio means some content won't take full advantage of it, but certain things like web pages, maps, galleries, photos, books or graphic novels shine on the bigger screen.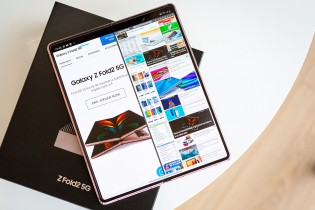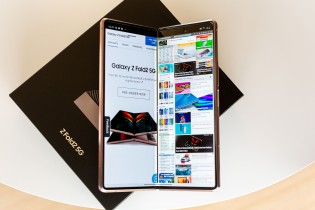 Split screen on the split screen
Last year's Galaxy Fold felt like a glimpse of the future but also a first-gen product. It stumbled out the gate causing a recall and design tweaks, but having already been in the hands of users for many months it proved to be quite sturdy proving doubters wrong.
Still, this year's Galaxy Z Fold2 feels way more of a finished product. It leaves no doubt that if cared for properly (read: by following Samsung's instructions) the Galaxy Z Fold2 will have no problem going along with you day in and day out.
All the while leaving no doubt that it's an ordinary phone. It's not even a phone at all, not in the classical sense. It's very much a next-gen device and has its peculiarities so you shouldn't approach it as a regular smartphone.
We get a lot of devices here at HQ – premium phones, midrange phones, laptops, tablets, wearables, headphones. Yet we can't remember the last time any of them made us feel like holding the tech of the future quite the same way the Galaxy Z Fold2 does.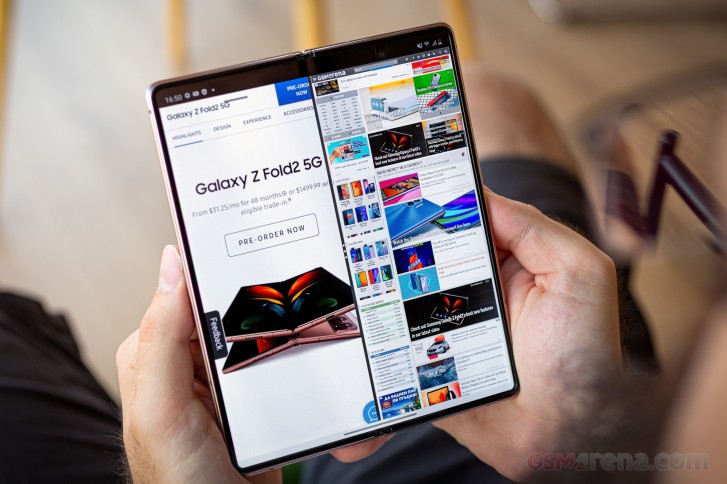 We've started work on our full review of the Samsung Galaxy Z Fold2 and will bring it to you sometime next week. Stay tuned!