Xiaomi demoes its third-generation solution for under-display front camera
2 min read
Selfie cameras have always been the biggest hurdle in the pursuit of the all-screen-front of smartphones. Bezels got thinner and thinner until they transformed into notches that eventually evolved into punch holes. The logical next step is an under-display front-facing snapper and ZTE is expected to introduce a working smartphone with the technology next Tuesday, September 1.
This is a huge motivator for other companies, and Xiaomi has revealed it is also joining the race. A company VP shared on his Weibo profile that their third-generation solution is finally ready for mass production, as well as posting a video, revealing how the tech works.
The Chinese company is calling the final solution a third-gen camera since the first iteration was a lab-only product, while the successor was a camera and a screen on a prototype that still wasn't good enough for mass production. The third version is finally ready to hit the pipelines and be a part of a smartphone with wider availability.
Xiaomi explained how the tech works in a separate post on the official Weibo profile. The panel is doubling the number of pixels over the small circle to have the same pixel density and color accuracy as the rest of the screen. It is borrowing colors from the neighboring pixels but is able to turn off/go black on-demand – mostly when the camera is turned on.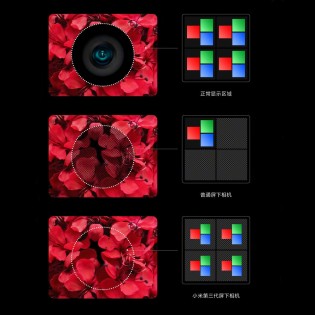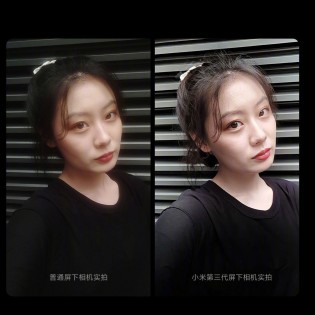 This is how the camera works and what pictures it takes
Due to the new pixel arrangement, Xiaomi is now able to implement its own understanding of how light should be transmitted in order to minimize any glare. The image is extremely clear with proper colors, allegedly so quality won't be sacrificed.
Mass production of devices with the new selfie camera will begin next year and hopefully, the Mi 11 lineup will be the first to get it.