Last week's poll shows that people are not sold on the Realme X3 SuperZoom – the voting results lean towards "no", though there is no definitive answer on whether or not the phone is worth it at €500. And this is €500 for the model with 12GB of RAM and 256GB storage, mind you as there are no other memory options.

In the comments, one of the most common responses was that people prefer Realme's other Snapdragon 855+ phone, the X2 Pro. An AMOLED screen (without the dual punch hole), 3.5mm headphone jack and faster charging seem to outweigh the periscope zoom lens.
The X2 Pro also costs €500 for the same memory configuration (in Europe, slightly less in other regions). There are some options, but with no microSD card the base version with 6GB of RAM and 64GB storage doesn't seem worth it at €400 (again, in Europe, it's less elsewhere). So, it's not so much about the price, it's about the capabilities and design.
Another alternative that was brought up several times is the Huawei P30 Pro. It recently got a refresh, but is essentially the same phone as last year, including having the Google Play Services on board.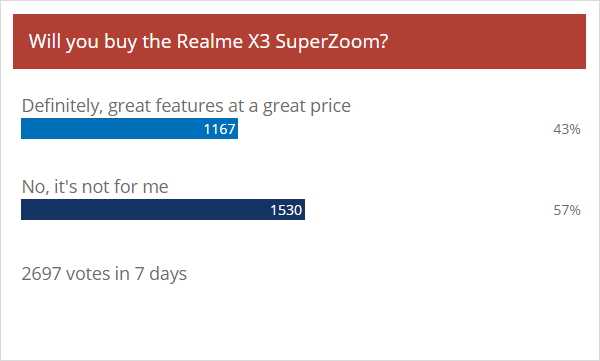 The lesson here is simple – great camera hardware is not a replacement for a great screen. While X3 SuperZoom's display has a 120Hz refresh rate, people are not convinced that this is a noticeable upgrade over 90Hz. Going with AMOLED instead of LCD would be noticeable, however. The distaste for dual punch holes also played a factor (we never thought we'd see the day when people defend notches, but here we are).