Samsung Galaxy Z Flip's Flex Mode is a unique feature and a key selling point – the design of the hinge allows you to tilt the screen (and the cameras) at any angle that's convenient to you. Only a few apps support it, but as of today YouTube is one of them and so is Google Duo.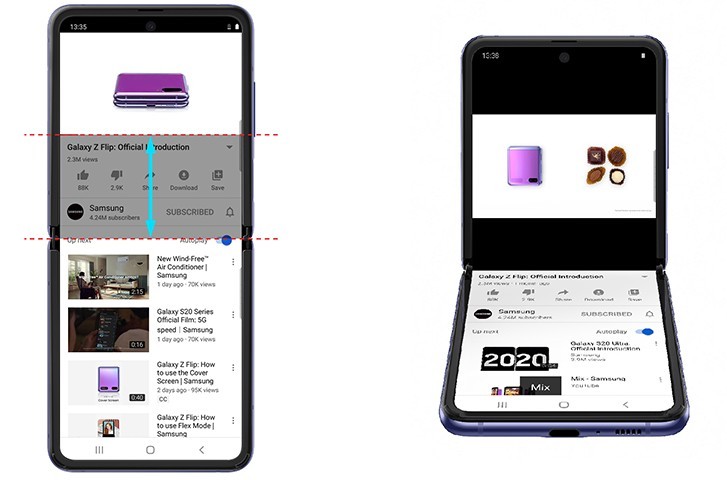 You can watch videos on all 6.7 inches of the screen or you could fold it 90° and leave it on a table (kind of like a laptop). The updated YouTube app detects this and moves the video to the top half of the screen.
The bottom half isn't wasted, however, instead it shows the rest of the YouTube interface, allowing you to like the video, subscribe to the channel and browse for more videos to watch next.
An Instagram-style square video fits almost perfectly in the top half of the folded screen, 16:9 landscape videos will be letterboxed.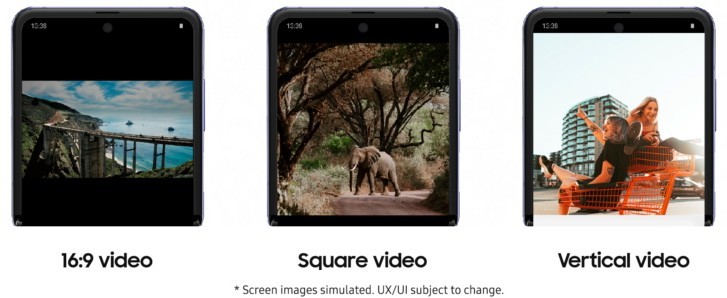 A previous update improved Flex Mode handling in the camera app.
Flex Mode is also handy for video calls and to that end Google Duo also gained support for this use case. Video chats will appear in the top half of the screen (which also houses the front-facing camera), controls will appear on the bottom half.
Samsung and Google worked on enabling this feature in concert and it is not exclusive to Google apps – the necessary code has been integrated into the Android Support Library, so any third-party app can make use of it.
Back to YouTube, the updated version is coming out today, so check the Play Store if you still can't watch videos in Flex Mode. Once that's up and running, remember that your Galaxy Z Flip came with 4 months of free YouTube Premium for an ad-free experience as well as offline and background play modes.
PS. the Play Store itself supports Flex Mode, Google Maps does too.