CEO Madhav Sheth officially confirmed that the Realme X3 SuperZoom is coming – and that it will have a 60x zoom camera. He shared a photo of the Milky Way taken with the phone's Starry Mode and challenges you to try and get a better shot with your current phone.
So, this is clearly a periscope camera that we're talking about, likely with 6x optical zoom. Of course, the 60x magnification is achieved with digital processing, but astro-photography relies on a lot of computational skills anyway (astronomers have been doing image stacking for years before phones started doing it).
The shared photo has 13MP resolution, which means that this module is probably similar to what's inside the Oppo 10x zoom.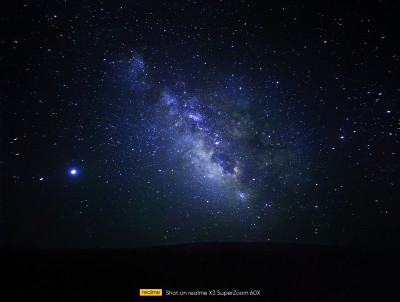 A photo of the Milky Way shot with Realme X3 SuperZoom's Starry Mode
However, the Realme X3 SuperZoom will use the slightly faster Snapdragon 855+ chipset with up to 12GB of RAM (the Oppo had the non-plus 855). This is a great pick for a chipset (it's more powerful than the S765G, for example), especially if 5G is not a consideration (that is the domain of the Realme X50 phones). Anyway, this X3 is rumored to have a 4,200mAh battery with 30W charging.
Details of the phone's remaining cameras are yet to surface, though now that the CEO has started his teaser campaign, we expect more info to trickle in at a steady pace leading up to the official announcement.