When Huawei unveils a P-series or Mate flagship, there's usually a premium Porsche Design edition with a custom exterior and exclusive features. For the Huawei P40 phones, the company has also partnered with the domestic Hongqi brand.
If you haven't heard of it, Hongqi is a marque of the FAW Group (one of China's Big Four car makers). This special edition is specifically inspired by the Hongqi H9, which was unveiled earlier this year – FAW's answer to the Mercedes S-class and similar luxury cars.
In the promotional poster you can see both the Huawei P40 Red Flag edition and the Hongqi H9 (Hongqi translates to "red flag"). The phone is black with a red dragon stenciled on the back.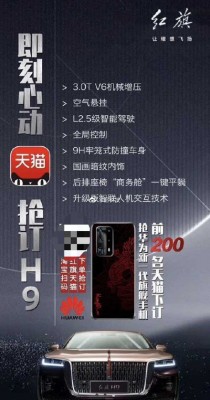 Huawei P40 Red Flag edition and the Hongqi H9
This special edition is based on the top-specced Huawei P40 Pro with five cameras. The main module has a 1.28" 52MP sensor (RYYB) while the ultrawide angle cine camera has a 1/1.5" 40MP sensor (both made by Sony). Also, the phone packs two zoom cameras – a 10x periscope and 3x regular lens.
The Huawei P40 phones will be unveiled on March 26. Chances are that the Red Flag edition will be exclusive for China, but we'll probably see at least one Porsche Design phone for the rest of the world.