Most people are looking to buy a phone in the $200-$600 range, shows last week's poll. The lower half of that price range proved the most popular, meaning that $200-$400 is the sweet spot for new devices.
This also means that Apple hit the bullseye with the iPhone SE (2020), which is exactly $400 if you can make do with 64GB storage. The upgrade to 128GB costs $50, which pushes things into the next price range, but that's not unexpected for Apple.
Still, an Apple A13 chipset at $400 should be a wake-up call to Android makers and probably Qualcomm too – Apple's chipset is in a league of its own. To be fair, outside of its chipset, the SE is sporting a lot dated hardware.
But that doesn't have to be the case. The Realme X3 SuperZoom is bringing a periscope cam, typically a flagship feature, and will cost €500 (which falls in the $400-$600 range). In the same price range are models like the Poco F2 Pro which bring 5G connectivity and Snapdragon 865 chipsets. You can also get 120Hz screens without paying over $600, large batteries and fast charging too.
There's still a market for high-priced models, of course, in fact 1 in 4 voters will be spending over $600 on their next phone, some ever going over $1,000. But they either have cash to spare or plan to keep that phone for a long time.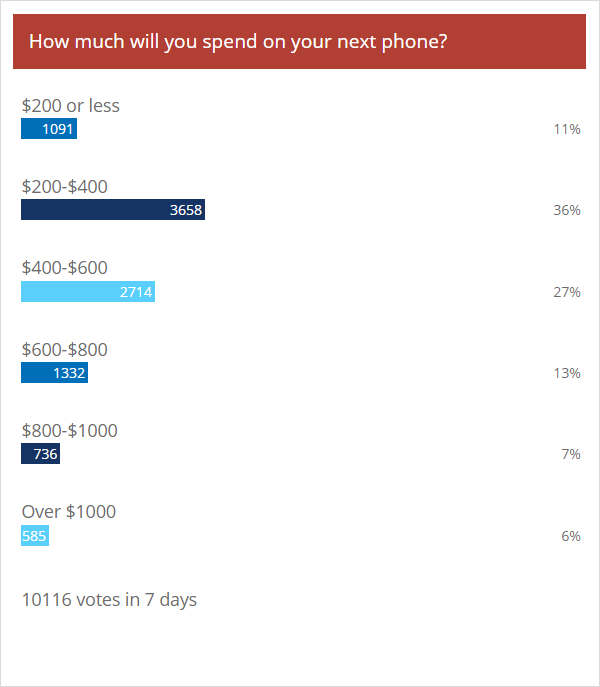 That's what makes iPhones attractive – Apple supports its old models for years longer than even the best of Android makers. Said Android makers have been extending their support periods too, which offers some reassurance that your pricey new gadget won't become obsolete in two years.
Also, while the more affordable phones may boast similar (or even the same) camera hardware as the flagships, companies tend to put more effort into tuning the software on their high-end phones, which results in better photos and videos. As has been the case for the last few years, a great camera is one of the main reasons to spend extra on a new phone.