Intel has taken the wraps off its 10th generation lineup of desktop CPUs. Codenamed 'Comet Lake', these new parts are still technically based on the 14nm 'Skylake' process from a few years ago but with multiple refinements.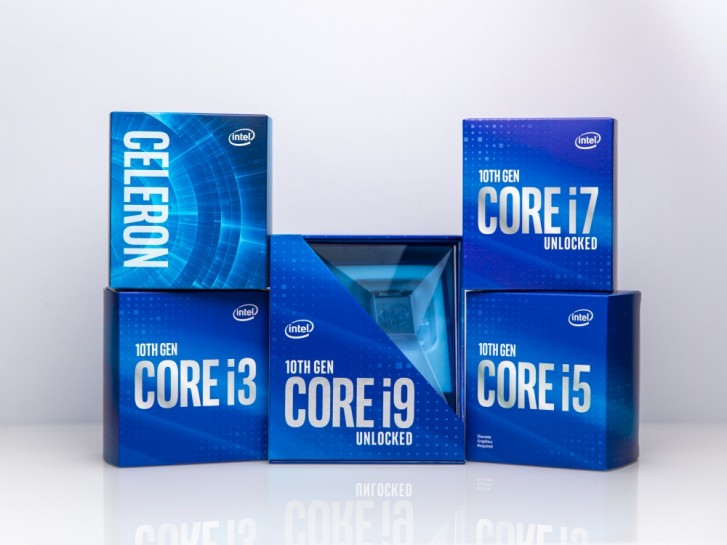 First, let's get one thing out of the way. Intel today announced 32 new models in its 10th generation lineup, starting with the Celeron chips at the bottom all the way up to the i9 10900K. We are not going to discuss all of them but just a select few.
Having said that, as you can probably see from the part list below, most of the chips are just variations of each other, with multiple models having a standard, K, KF and T variations. As with previous generations, K signifies unlocked, F signifies no integrated GPU, KF is thereby unlocked without iGPU and T are for low-powered variants with a 35W TDP.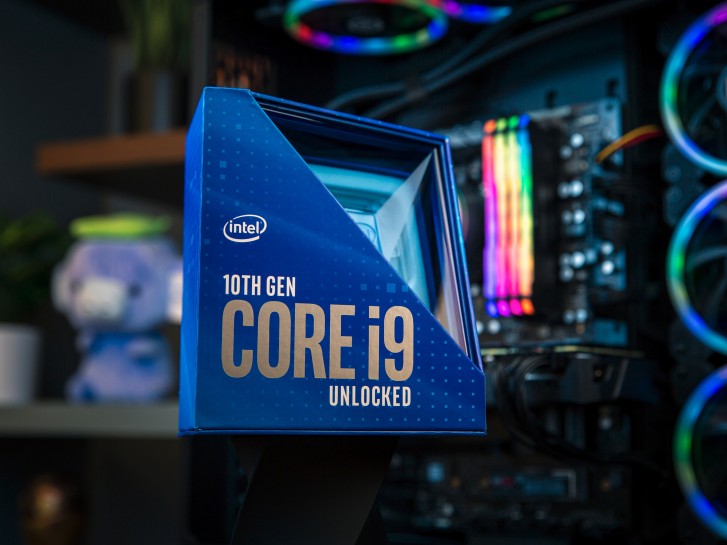 Starting with the top end, the Core i9-10900K takes the top spot in Intel's consumer lineup, replacing the previous i9-9900K. This new part has 10 core/20 thread design with a base clock of 3.7GHz and boost clock of 5.1GHz.
Intel has also complicated things a bit further this time with the inclusion of Turbo Boost Max 3.0, which is what a favored core can reach under load and Thermal Velocity Boost, which is what the CPU can achieve when kept under 70°C.
In case of the 10900K, it can go up to 5.2GHz under Turbo Boost Max 3.0, 5.3/4.9GHz under Thermal Velocity Boost under single/multi load and finally, 4.8GHz under all core turbo.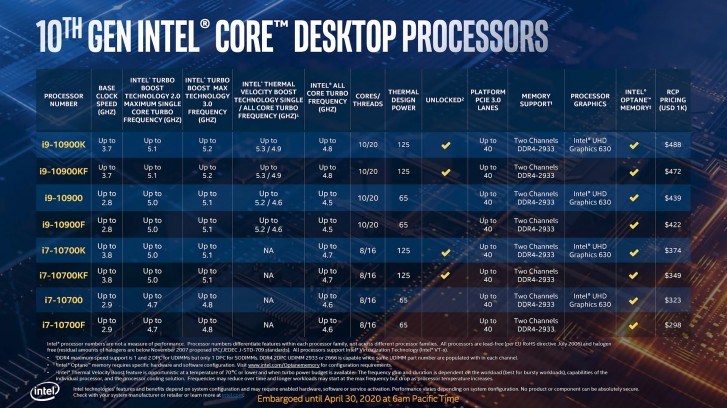 The 10900K is a 125W TDP part, but as with previous chips, you should be able to go past that limit with certain motherboards. There's now support for DDR4-2933 but again, you can use faster memory, which works just fine. The RCP pricing, which is pricing for OEMs for 1K units is $488, so expect it to be a bit higher for consumers. This is similar to the 9900K, making the 10900K much better value, even if it's not offering any groundbreaking new technology.
In the Core-i7 lineup, the 10700KF looks to be the most interesting. It's essentially the 9900K with the same 8C/16T design and clocks that go upwards of 5.0GHz but now at a much more affordable $349 approximate price point. Again, nothing groundbreaking but just better value than before. The locked 10700F might also be an attractive option to some if you're not into overclocking.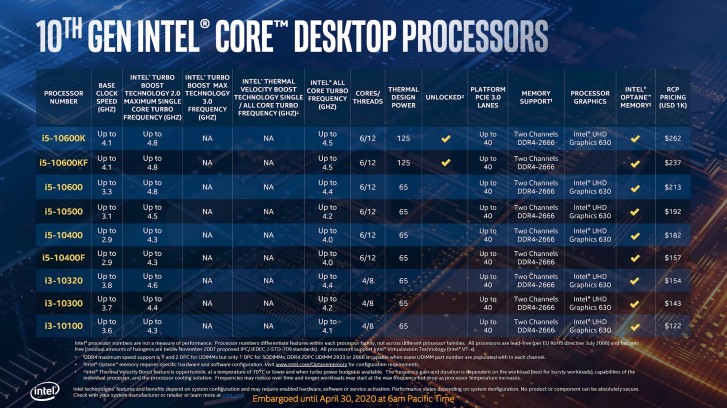 In the mainstream i5 lineup, the 10600KF comes with a 6C/12T design with 4.1/4.8GHz clock speeds. There's no Turbo Boost Max 3.0 and Thermal Velocity Boost here, as that's limited to i7 and i9. The official memory speed is also DDR4-2666 but that's not as much of an issue. The price is higher than AMD's Ryzen 5 3600 but the Intel definitely has an advantage in clock speeds and now with the core and thread count to match, it would be interesting to see how the two match up and if Intel's price premium would be worth it.
The 10400F also looks like a cracking option for budget gaming rigs. There's no overclocking support but at around $150 price point that might not really matter much.
The i3 series is a bit lackluster in comparison. All parts support Hyperthreading but there are no unlocked parts anymore and with a starting price of around $130 they're more expensive than AMD's new $99 Ryzen 3 3100.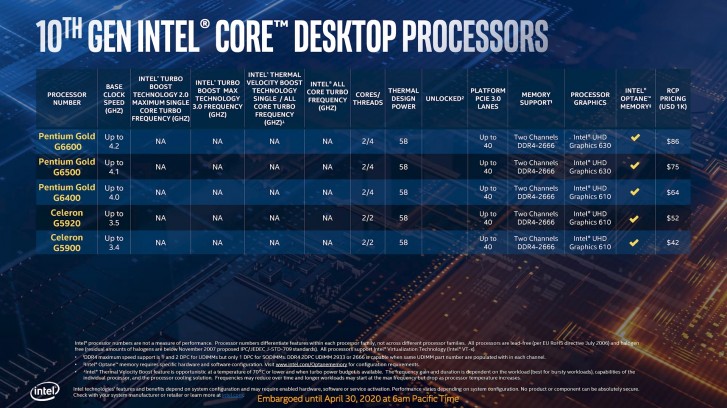 The Celeron series still exists for those on a really tight budget or just in need of something that can boot into an OS but unless pricing is a major concern, you can do a lot better than these dual core parts.
Along with the more attractive pricing, almost all parts this year, except for two of the Celeron models, support Hyperthreading. In the past, Intel reserved this feature for its highest end parts (and oddly, its lowest end i3 series) while the mainstream i5 and i7 models had no simultaneous multithreading support. This was one of the biggest advantage AMD had with the Ryzen, which along with offering unlocked parts across the board also had SMT on nearly all models.
This year, we are seeing course correction from Intel on two fronts, pricing and Hyperthreading. The extensive model list with the unlocked/locked, GPU/non-iGPU nonsense is frankly too much and the company's marketing department really needs to get its act together and just get rid of the locked models, as well as the iGPU variants on the i5, i7 and i9 series as it makes little sense there.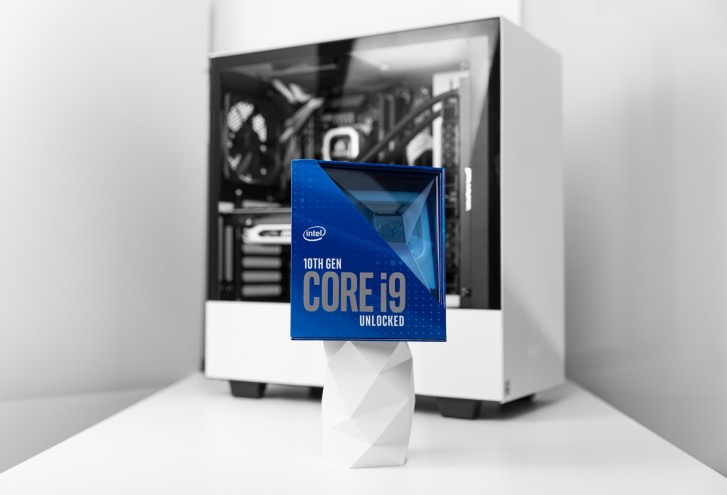 Of course, we have a new chipset and socket to deal with this year. The new 10-series will only be compatible with the LGA-1200 socket, so no old motherboards would work. The new socket has extra pins, which aren't used currently but will likely enable additional features in future processors, such as possible PCIe 4.0 support. You will also need a motherboard with a new chipset, running either Z490 (for overclockers), B460 or H470 chipsets. Some of these motherboards do have PCIe 4.0 support but it's not going to work with these CPUs and it's reserved for the next generation Rocket Lake parts.
You can read more about the announcement in the link below.