Motorola is working on a "plus" version of the Moto One Vision, a modification that surfaced on the Google Play Console. It will be joined by the first of a new generation E-series phones as the Console also revealed the Moto E7.
The Moto One Vision Plus will drop the punch hole in favor of a teardrop notch for its selfie camera. The screen panel stays at 6.3" and (we're guessing) 1080p+ resolution, same as the original.
So, what's "plus" about this phone? It's not the memory, this one will come with 4GB of RAM and 64GB of storage. The original had 128GB storage. Also, the Plus model will launch with Android 9 Pie even though the vanilla model got Android 10 in January.
To be fair, we don't know whether Motorola upgraded the chipset from the Exynos 9609 of the original, but if it hasn't, then it should already have a tested version of Android 10.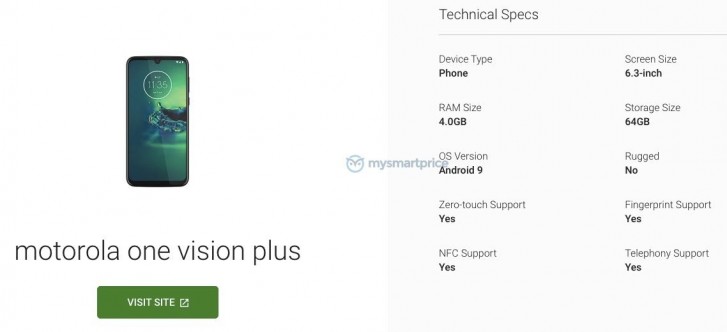 Moving on to the Moto E7, the first of Motorola's new entry-level lineup. The phone will be powered by a Snapdragon 632 chipset. This same chip was also used in the mid-range G7 series (though they are a year old now, replaced by the G8 models).
The 2GB of RAM are not much to work with for full Android 10 – yes, the entry-level model gets a newer version. Anyway, we do hope that there's an option with at least 3GB.
The E7 will have a 720p+ display (19:9). Given the pixel density, the screen should be around 6" (though note that the DPI listed by the Console is more a guideline for app UI scaling than an accurate measurement). The latest Moto E6s (2020) has a 6.1" screen, the original E6 was smaller at 5.5".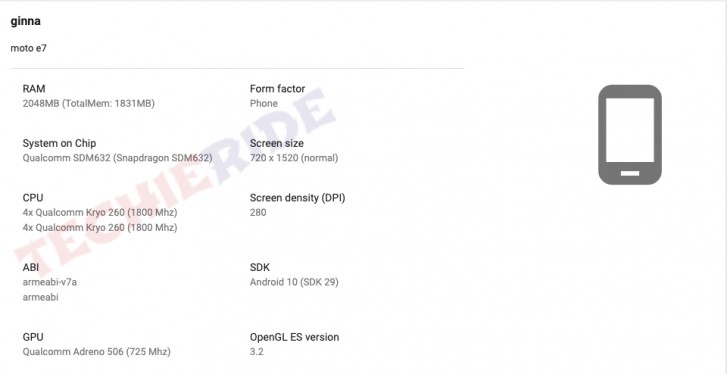 There's no info on when the Moto One Vision Plus and Moto E7 will be made official, but going up on the Google Play Console is usually one of the last things on the pre-launch checklist.