The year began with a press release from China, confirming that Oppo, vivo, and Xiaomi have officially launched a joint cooperation for wireless file transfers and have called themselves Peer-to-Peer Transmission Alliance.
Starting today, four more brands join the party – OnePlus, Realme, Meizu, and Blackshark.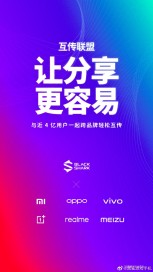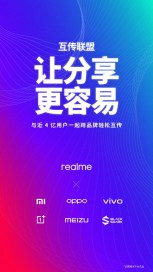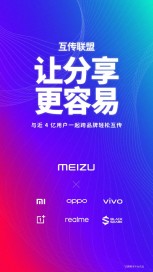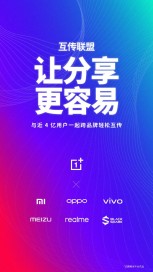 The official posters by the companies
The seamless file transfer platform is aiming to enable speedy cross-brand exchange of data. It pairs through Bluetooth, but media and other files transfer through Wi-Fi at 20 MB/s rates. With the wider adoption of 5G connectivity, files become increasingly larger and sometimes a standard BT file exchange is not enough.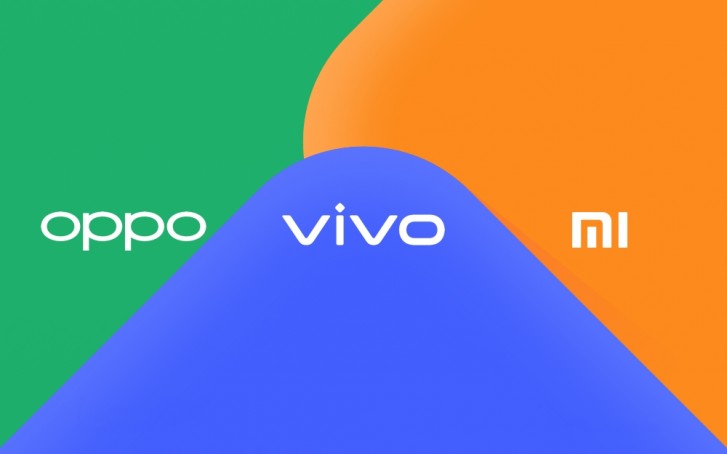 The P2P transfer option should be available in the Share sub-menu, but for now it is appearing only on non-global devices. While Meizu is a completely new company and fresh addition to the alliance, the arrival of OnePlus and Realme is not surprising – both brands are part of the big BBK portfolio where Oppo and vivo are also a key part. BlackShark with its unique Joy UI is a similar case – it is a gaming subsidiary of Xiaomi.