The Oppo Ace 2 is already on the way. In fact, it is only mere hours away from its April 13 release, as evidenced by a swell of leaks, as well as officials, teaser, videos. The latest of these details the freshly brand-tweaked, "Reno"-less Ace 2's display in quite a bit of detail. Including its 90Hz refresh rate. At the same time, we have also been keenly aware that Oppo's upcoming, restructured lineup will include A-series devices. As per leaks, at the very least, an Oppo A21 and two other mystery devices – CPH2067 and CPH2069. One of which, perhaps the Oppo A72. Well, now the plot thickens even further, since a brand new, A92s was spotted on both an official-looking poster, as well as an MIIT certification page.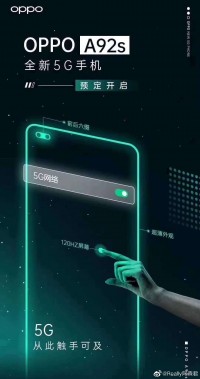 Oppo A92 poster
There is this alleged image of the back of the A92s floating about online as well. It's kind of hard to miss, with its interesting camera module design.
#oppo A92s
Image source : digital chat station pic.twitter.com/d7FIeBTnCb

— _the_tech_guy (@_the_tech_guy) April 11, 2020
Aside from the immediately troubling question of that "s" appendix in its title, likely hinting at the existence of a vanilla Oppo A92, which we have heard nothing about thus far, there are other peculiarities with the device, as well. For one, there is the ominous "120Hz" writing, on the poster. Despite our best effort, we couldn't really say for sure whether this refers to the refresh rate of the display or, the more plausible answer – its touch sampling rate. The text next to is a bit ambiguous. If any one of you guys can clear it up for sure, drop a comment. Don't get us wrong though, while we would definitely enjoy a 120Hz display A92s device, this kind of does against the fact that the Ace 2, we mentioned earlier, will definitely have a 90Hz display. That would effectively make it inferior to the A92s, which really shouldn't be the case, since the bottom text on the poster roughly translates to "5G within reach".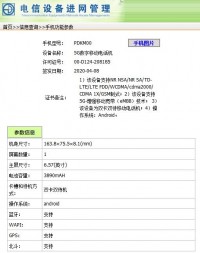 Certification listing
Looking at the particulars in the MIIT certification document, the A92s is expected to bear the model number OPPO PDKM00 – a total departure from all the previously mentioned, known A-series models, but that is not the main takeaway. That document also details some of its specs, including a MediaTek Dimensity 800 5G chipset. That is definitely a mid-ranger chip, a few levels below the Snapdragon 865, which will be found inside the Ace 2. So, it should be fairly safe to operate under the assumption that the 6.57-inch LCD, said to be part of the A92s will simply be a 60Hz unit with 120Hz touch input. Other bits and pieces od leaked hardware include LPDDR4X RAM and UFS 2.1 storage, of unknown capacities. A 4,000 mAh battery, with support for 18W fast charging via Power Delivery. The latter being a particular curiosity, since VOOC has been Oppo's typical go-to standard for quite some time now, so, perhaps, this is the start of a new PD trend?
Anyway, back to listing A92s hardware. It's camera department includes a 48MP Sony IMX586 main camera on the back, alongside an 8MP ultrawide, 2MP macro and 2MP depth sensor. It also gets a pair of cameras on the front – 16MP Sony IMX471, plus another 2MP depth sensor. All of this, as per the source, is fitted inside a 163.8 x 75.5 x 8.1mm body, weighing-in at 184 grams.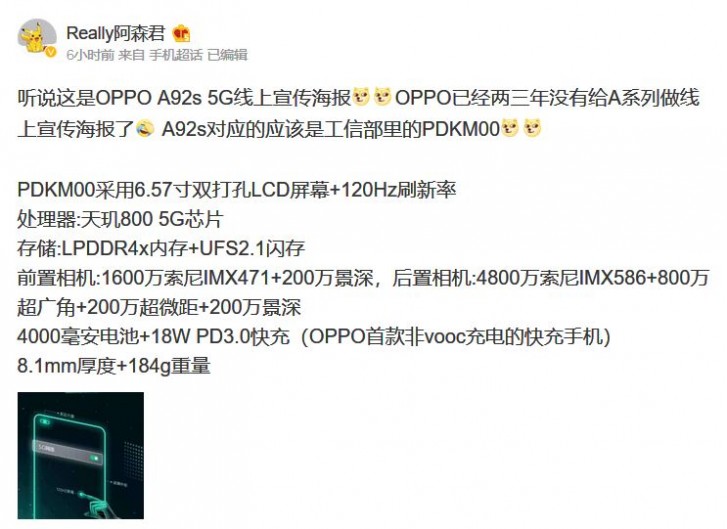 Perhaps the A92s and some of its other A-series sibling might be joining the Ace 2 at its scheduled April 13 event? We'll definitely keep you posted.