We've already dealt with the Oppo Find X2 Pro and gave it a lot of praise for its lovely display, its cameras and its excellent build.
The Oppo Find X2 is now here at HQ and it shares a lot of what made the Pro so good, only it costs a little less. Here are our quick first impressions of the Oppo Find X2, along with an unboxing.
The Find X2 Pro comes with a 65W charger, USB-C cable, USB-C headphones and a complimentary silicone case.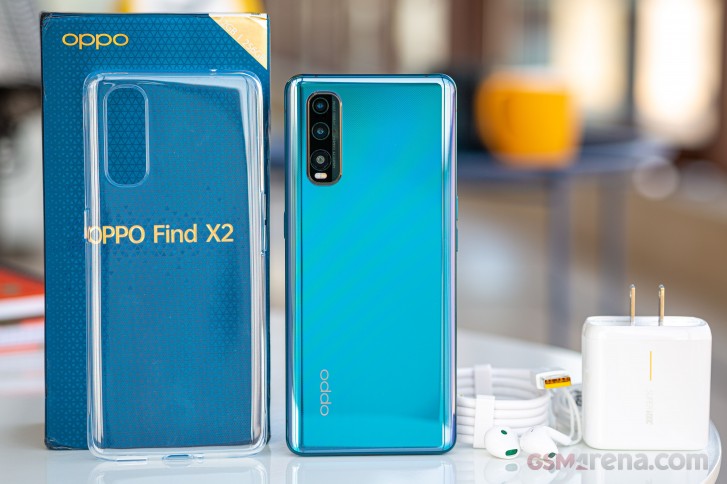 The Find X2 is ever so slightly shorter than the Find X2 Pro and noticeably thinner. Up front it has the same premium 6.7-inch 1440p AMOLED with 120Hz refresh rate, which is easily among the best displays in the market.
The non-Pro Find X2 loses the IP68 water and dust protection and is only splash-proof.
Its cameras are also inferior to those of the Find X2 Pro – you only get a 2x telephoto instead of the 5x periscope and the ultrawide is a less-impressive 12MP shooter and not a 48MP large-sensor snapper. The main camera is still 48MP but has a much smaller sensor than the one on the Find X2 Pro. But while the Find X2 likely won't be able to match the image quality of the Pro is has most of its versatility.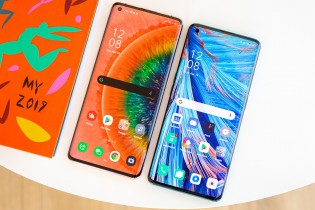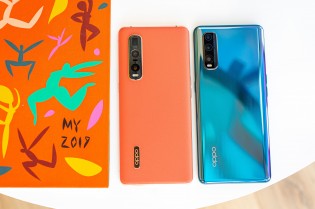 Oppo Find X2 Pro next to Oppo Find X2
Our Oppo Find X2 arrived in the lovely Ocean Blue color. It has a glass finish (the Black model is ceramic) and a subtle pattern under the glass that comes out under direct light.
Oppo makes some of the loveliest looking smartphones on the market and the Find X2 is no exception. Even so we'll admit that the Ocean Blue Find X2 is no match for the vegan leather Find X2 Pro in looks and feel.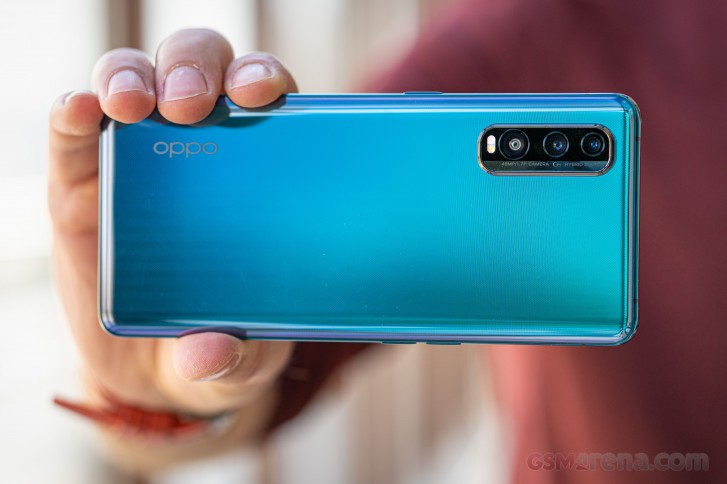 The Oppo Find X2 brings a Snapdragon 865 chipset, 12GB RAM and 256GB of UFS 3.0 storage and China also gets 8GB/128GB and 8GB/256GB versions. It's a snappy phone, not least thanks to the 120Hz refresh rate of the display.
By default, the phone's software will determine at what refresh rate to run the display – either 60Hz or 120Hz – but you can also manually select either mode.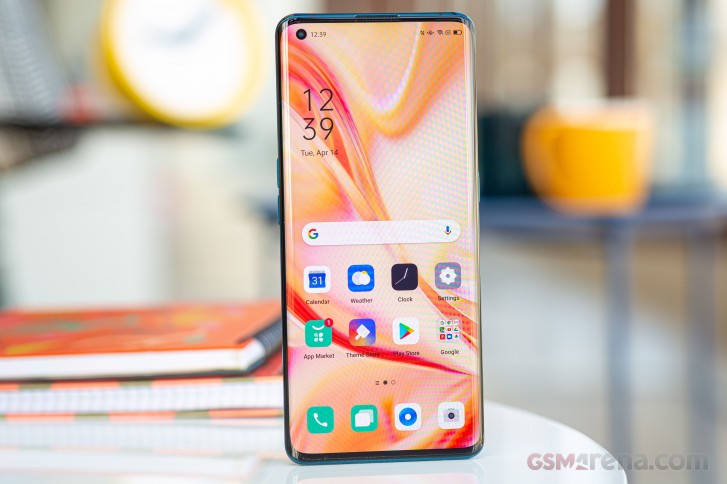 We've started our full review of the Oppo Find X2 and there's a lot to cover, so stay tuned!