On Friday, a few live images of the Oppo Watch have surfaced thanks to the FCC. The Oppo Watch appears here with model number OW19W12. We also get a look at the Watch's charging cable and wrist strap.
There is no doubt that the Oppo Watch bears striking resemblance to the Apple Watch. Heck, it even sounds a lot like "Apple Watch". Anyway, the Oppo Watch is expected to arrive to the European market sometime in the second half of this year.
However, language in the FCC's description suggests that the Oppo Watch will be sold on Amazon's US website. "Purchase on Amazon: OPPO Watch". Clicking on the link takes you to an Amazon.com search for "Oppo Watch", which does not exist on Amazon (US) at the moment.
Oppo Watch OW19W12 Images Via FCC. pic.twitter.com/4yxT7my8Fk

— Abhishek Yadav (@yabhishekhd) June 27, 2020
There are two sized of the Oppo Watch, 41mm and 46mm, and as per the photos and thanks to the conveniently juxtaposed ruler, we can see this is the larger 46mm variant.
The Oppo Watch arrived in China back in March with a custom OS and is available for ~$282 (CNY 1999). There's a 1.9-inch display and the displays glass curves at the sides. Internally, the Watch is powered by the Snapdragon 2500 Wear mobile platform, along with 8GB of ROM, and supports a cellular connection via eSIM.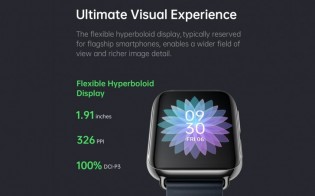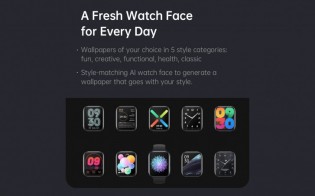 Oppo Watch infographics from March, tweeted by Oppo Global
It will be interesting to see if the Oppo Watch will make it to the US and if so, will it have the support of major US carriers to be a success?