Samsung announces that its Galaxy A71 5G is arriving to the US. This is the first midrange smartphone to arrive to the States with support for 5G. Before the A71 5G, the cheapest 5G smartphone you could buy in the US was the OnePlus 8 on T-Mobile for $699.
While the global version of the A71 5G is powered by the Exynos 980, the US-bound variant will be powered by the Snapdragon 765G. This is the first 5G-enabled Snapdragon 765G powered device that arrives to the US.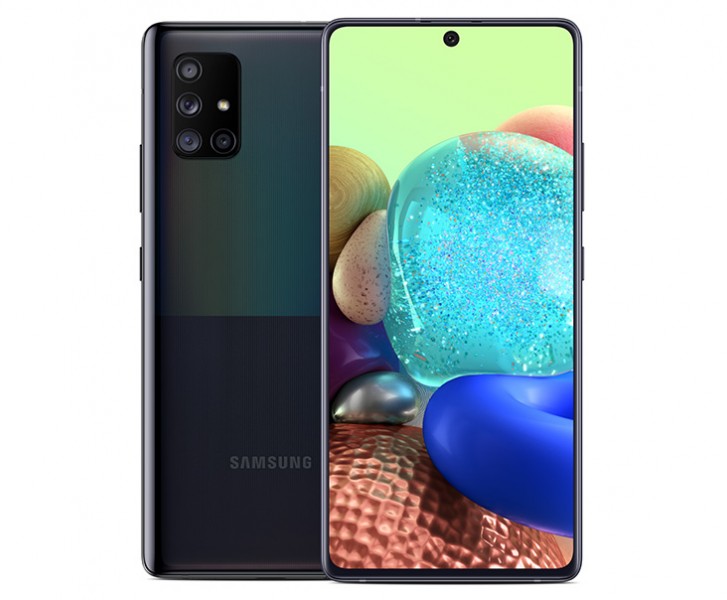 Samsung Galaxy A71 5G
The A71 5G will arrive to all major US carriers for a retail price of $599. Samsung will also sell a US-Unlocked version that you can take to any carrier. The Galaxy A71 5G will go on sale at T-Mobile, Sprint, and Samsung.com starting this Friday June 19. Other carriers, and the unlocked variants will be available "later this summer".
Verizon's variant will go on presale starting July 9, with shipments arriving by July 23. Verizon hasn't yet offered any details on pricing, but its 5G phones tend to have a markup since they need to be compatible with its mmWave 5G network. Meanwhile, T-Mobile's variant will be compatible with its n41 (low band 600Mhz) and n71 (mid band 2.5Ghz) bands.
The Samsung Galaxy A71 5G is powered by the Snapdragon 765G and supports 5G. It comes with a 6.7-inch Super AMOLED screen with Infinity-O cutout – this houses a 32MP selfie camera. The main quad-cameras consist of a 64MP main camera, a 5MP depth sensor, 12MP ultrawide camera, and a 5MP macro shooter.
Onboard are 6GB of RAM, 128GB of internal storage, and a 4,500 mAh battery. The A71 supports 25W charging, and includes a 3.5mm headphone jack.