American accessory manufacturer Satechi has launched a new wireless charging pad for AirPods that is serious about keeping wires and clutter to the absolute minimum. Simply called the USB-C Wireless Charging Dock, the accessory plugs directly into any USB-C port and can wirelessly charge your compatible AirPods.
The dock has a compact Qi-compatible charging surface capable of charging at 5W. The size of the pad is just big enough to accommodate the new AirPods Pro but also works with the standard AirPods provided you have the optional wireless charging case.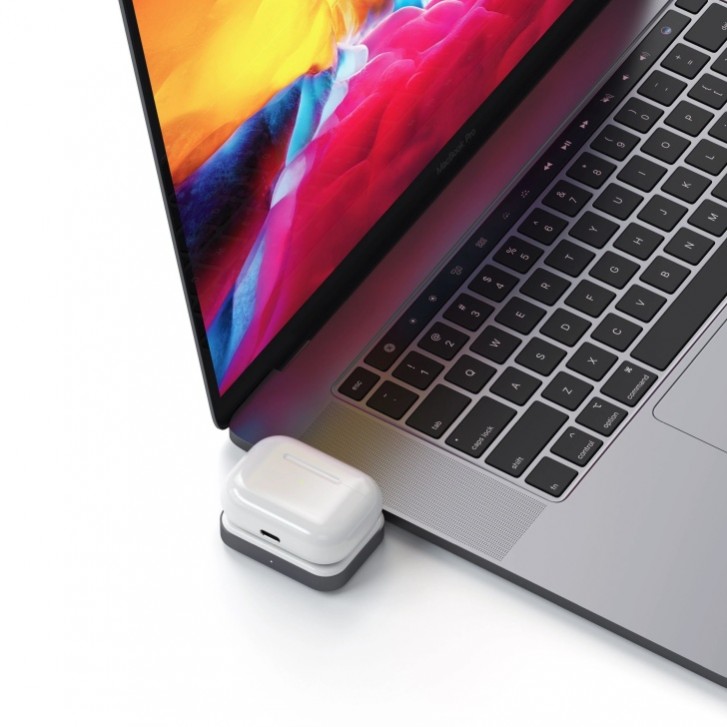 The dock then plugs directly into any spare USB-C port you may have on your computer. It can technically plug into any device, and Satechi even shows it being used with an iPad Pro, but realistically, you'd want something that is always lying flat and you wouldn't normally keep an iPad flat on its back unless it's not in use. But it's good to have in a pinch or if you don't want to carry cables to charge your AirPods.
The beauty of this dock is its sheer minimalism. There are no wires cluttering your desktop and its compact size and the fact that it can only realistically accommodate the AirPods means you can leave it plugged in to the side of your laptop all day and not be bothered by it. The dock has an indicator on the side to show charging status and the base is made out of aluminum.
The Satechi USB-C Wireless Charging Dock can be purchased from their website for $30. The company also sells a similar charger for charging the Apple Watch.