While Realme has waded into the flagship battle, the company's mid-rangers are still its most desirable products as they offer great value for money. The Realme 6 went on sale this Wednesday and the Pro on Friday, so we wanted to ask – will you be picking one up and which one?
The Realme 6 and the 6 Pro borrow several features from the company's budding flagship line, the X-series, so the two phones feel tangibly more premium than the Realme 5 and 5 Pro.
For one, both phones now have 1080p display panels. Better yet, they feature 90Hz refresh rate and 120Hz touch sampling. Also, Realme switched to punch hole selfie cameras, though we know this will be a controversial move.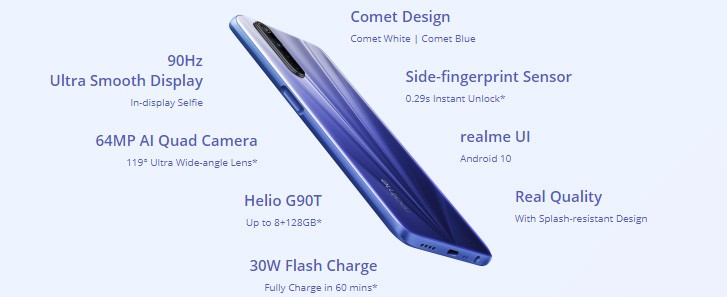 Also, both phones now support 30W fast charging while in the Realme 5 Pro topped out at 20W (and the non-Pro at just 10W). However, 5,000mAh battery on the Realme 5 scored an incredible 144h Endurance rating.
We'll be testing the new phones too, but since both have the same battery – 4,300mAh – and the Realme 5 had a 720p display, we have a feeling that the new numbers will not be so impressive.
The other major upgrade on the new generation is the 64MP sensor in the main camera. Yes, even the Realme 6 got it, even though the previous non-Pro model got stuck with a basic 12MP sensor. There is a limitation however – it doesn't support 4K video recording.
Anyway, joining the main camera is an 8MP ultrawide cam and a 2MP macro camera. The Realme 6 also has a 2MP depth sensor.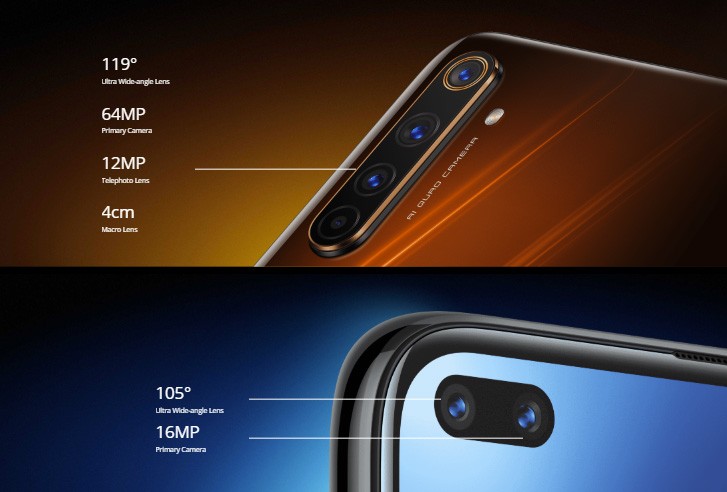 The advantage of the Realme 6 Pro is that its 64MP cam can capture 4K/30fps video. Also, it has a 12MP telephoto camera (2x optical zoom) instead of the questionably useful depth sensor. The front also has an 8MP ultrawide camera for group selfies.
The other reason you might want the Pro model is the Snapdragon 720G. We know there are more appealing 700-series Snapdragons, but that's arguably the one to offer best value for money in 4G markets. Yet from what we've seen in benchmarks, the MediaTek Helio G90T may prove to be almost as fast as the Qualcomm chipset.
Sure, it's a 12nm chip while the Snapdragon is an 8nm part, so it won't be as power efficient. Still, Realme isn't making it easy to choose between these two models. Another thing to mention is that the Realme 6 has a plastic back while the Pro has a glass back and a newer Gorilla Glass on the front (GG5 vs. GG3).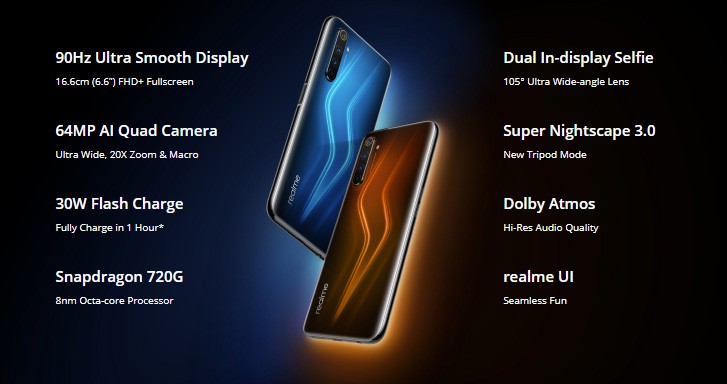 The Realme 6 starts at INR 13,000 ($177) for the 4/64GB model. The Realme 6 Pro goes for INR 17,000 ($232) for the 6/64GB model (note: 2GB more RAM). Are that telephoto camera and 4K video option really worth the premium?
What do you think of the Realme 6 and 6 Pro?