The Redmi Note 9 Pro Max is the one to have, based on the results of last week's poll. The Max model proved significantly more popular than both its sibling and its predecessor.
The most common reason to pick it over the Redmi Note 9 Pro seems to be the camera, though many appreciate the faster charging as well. The small price difference between the two models may have condemned the 9 Pro to be a distant second best to the 9 Pro Max.
Just over a fifth of voters are not happy with either Redmi Note 9 Pro option, usually because there's no high refresh rate screen. Many wished for a telephoto camera instead of the depth sensor (though some bokeh fans did come to its defense).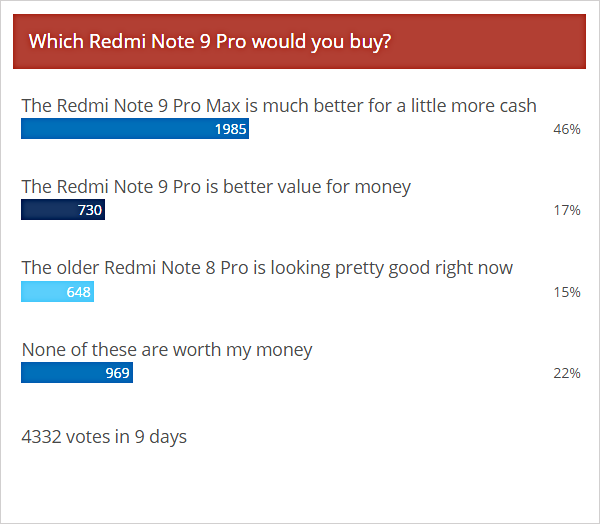 A lot happened since the poll was published just last week. The Indian release of the Redmi Note 9 Pro Max was delayed, the Redmi Note 9 Pro proceeded as planned. However, the phone is now out of stock on Mi.com, Flipkart and Amazon, so if you missed the initial sale you're out of luck.
Meanwhile, the Redmi Note 9S, the global version of the Note 9 Pro, was unveiled with plans to sell globally through AliExpress and Gearbest as well as locally through retailers like Lazada and Shoppee in South East Asia. If all goes well, it will be available starting on April 7.