The Honor 30 family is arriving on April 15 and we expect at least two phones – Honor 30 and Honor 30 Pro. We might also get an Honor 30 Pro+, which will be the ultimate flagship.
Two days before the launch and the company posted multiple samples and teasers on its Weibo profile, revealing some key specs of the lineup's top dog. It will have 1920 fps slow-mo, ultra-fast focusing, 4K video recording at 60fps and X-axis stabilization, helping the AIS.
To demonstrate the quick focusing abilities, Honor posted a photo, claiming that animals are the hardest objects to shoot, because you don't know what their trajectory will be, therefore you don't know where and how to focus properly.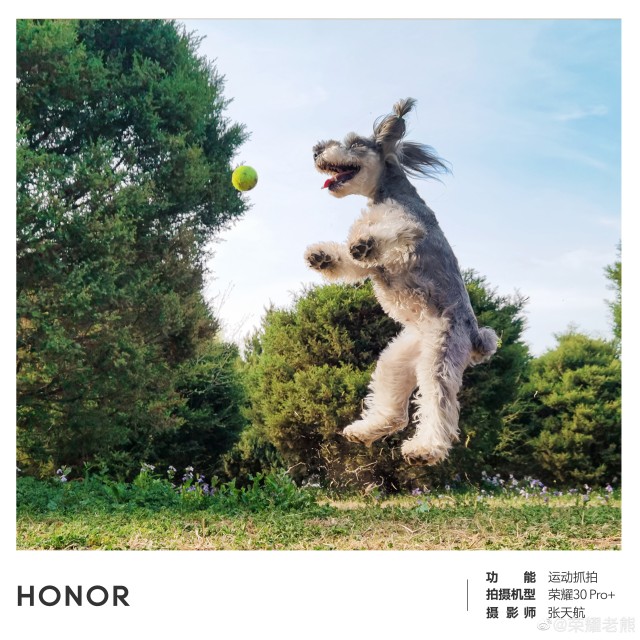 Honor 30 Pro+ camera sample of ultra-fast focusing
The Honor 30 Pro+ will do this for the user with "accurate fast focusing capabilities, as well as powerful graphics processing capabilities". The account is clearly hyping its Kirin 990 chipset, although the text says that specs cannot be named yet.
As for the 1920 fps slow-mo shooting, Honor revealed in a separate post that this is a staple in "taking good videos", along with 4K at 60 fps and AIS video super image stabilization.
When the Honor 30 Pro (or Honor 30 Pro+) joins them, it will be the first non-gaming-dedicated smartphone to have this feature. Currently, there are a bunch of mobile devices that can record such videos – the vivo iQOO Pro family, the Black Shark 3 lineup, and the latest few nubia Red Magic phones, including the nubia Red Magic 5G.