OnePlus usually holds pop-up events around the world which double as fan meetups. That's not possible this year, of course, but the pop-up events are still happening. If you're wondering what's the point when you're missing out on the in-person experience, the answer is simple – freebies. Thanks to a leak, we get a sneak peek at what will be in the gift bag.
Besides the usual retail package with the phone and charger, you will also receive a pair of Bullets Wireless Z and three cases. The first cases is transparent (save for the "Never Settle" tag), this allows you to show off the new colors – Glacial Green and Interstellar Glow.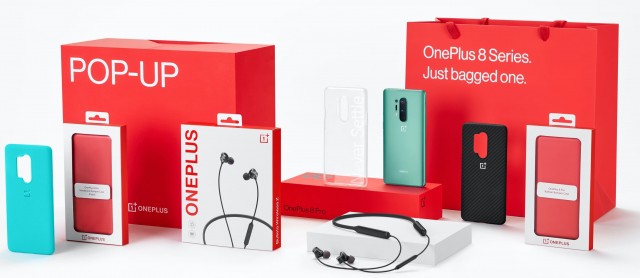 OnePlus 8 Pro pop-up event promotional package
There are also two bumper cases – Karbon and Sandstone in Cyan. Bumper cases are thicker and offer more protection than the basic cases. These are the goodies for the OnePlus 8 Pro, it's not clear what accessories will be bundled with the vanilla OnePlus 8 (most likely the same).
Usually there's also some swag in the bags from pop-up events, say a OnePlus t-shirt, but that's not pictured here. That doesn't necessarily mean you won't get your swag, however, we'll find out for sure tomorrow.
By the way, OnePlus was running a blind sale, which promises "exclusive content". Chances are that those who bought into this will be getting a similar bundle of accessories.