Leakster @RODENT950 is back with more info on the Huawei P40 Pro camera. The main module on the back will reportedly feature a Sony IMX700 "Hexadeca Bayer" sensor. That's Greek for sixteen, which likely refers to the "Quad Quad Bayer" sensor we heard about in January (it reportedly does two rounds of 4-in-1 pixel binning).
It's a large 1/1.28" sensor with 52MP resolution. That results in 13MP shots after one round of binning and just 3.25MP after two rounds (likely reserved for Night mode). Despite the "Bayer" name, the sensor is actually set to have a RYYB color filter instead of the usual RGGB.
The ultra wide cine camera will also feature a fairly large sensor, this one 1/1.5" Sony IMX650 with 40MP resolution (and an RGGB filter).
Most interesting of all is the combination of two zoom cameras – a periscope with 10x optical zoom and a regular telephoto camera with 3x magnification.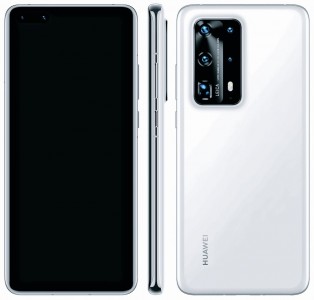 Huawei P40 Pro
The upcoming Huawei flagship will also feature a Time of Flight 3D sensor and color temperature sensor that will aid the camera modules on the back. All this sounds a lot like the Huawei P40 Pro Premium Edition that was rumored in early January, the "regular" P40 Pro was supposed to have a 5x periscope.
Huawei will officially unveil the P40 lineup on March 26, then we'll find out the actual product line-up. Well, aside from the Huawei P40 lite and P40 lite E, those are already official (and are rebranded versions of existing devices).