Meizu has been teasing its upcoming top-tier smartphone, the Meizu 17, for a while now and we have a new installment in that promo campaign. From a post shared on the company's official Weibo page today, we learn that the Meizu 17 will will be powered by a 4,500mAh battery and will support 30-watt charging with Meizu's proprietary mCharge solution.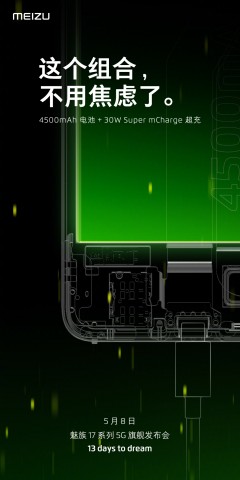 Meizu 17 teaser image
Okay, techincally, there were already rumors on that particular number for the battery capacity and the 30W charging was mentioned in a certification document, at which time a photo of the actual brick also made the rouds. But today's info comes from the source, so it's rocksolid.
Previously, the company revealed that the Meizu 17 will have the Snapdragon 865 in charge, to noone's surprise. The phone will also feature UFS 3.1 storage offering a significant upgrade in terms of random read and write speeds over the prevalent UFS 3.0 as we saw while testing one of the first phones with UFS 3.1, the vivo iQOO 3. A previous teaser had us marveling at the quad-cam setup on the back (without offering any details), while a couple of sceenshots from way back in February point to a 90Hz display.
The Meizu 17 will be announced on May 8, so that's when we'll know everything.