One of the low-key flagships this year is Meziu's top-tier offering – the Meizu 17. It's still unreleased, but it was subjected to plenty of leaks for the past few months, so we know what to expect. Now, we even know when it will arrive.
And no, it's not today as initially thought. It appears that we were a bit lost in translation and Meizu's announcement today was all about the mSmart 5G technology.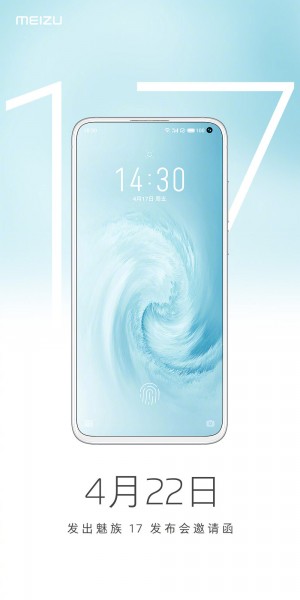 According to the official teaser poster, the handset is supposed to arrive on April 22 and the announcement comes with a full-frontal render of the device confirming what we've seen so far. The rather small punch-hole camera design in the upper-right corner seems pretty impressive. And, of course, it will sport an under-display fingerprint on the front. Not that we expected otherwise.
Another important bit is that the phone will support the so-called mSmart 5G tech that was announced earlier today. The rest of the rumored features are 90Hz OLED panel, quad-camera setup on the back and 30W fast charging for the non-Pro version and 65W for the Pro.
As of now, we don't know if the phone will go beyond the Chinese borders as the launch itself is going to be for China. We will know in a couple of days.