We've had the Motorola Edge+ at headquarters for a few days, but we're not in the habit of opening up our review units (the occasional 'Heat gun! Heat gun!' chants can be heard in the office, strictly when all other options have been exhausted). So we jumped at the chance to have a look inside the Edge+, presented to us by YouTuber PBKreviews.
Before he gets out his heat gun, he points out that he's not thrilled with the phone's presentation and that echoes our own sentiments. We did get a set of in-ear headphones and a protective case, so Europe has it one better than the US, it seems.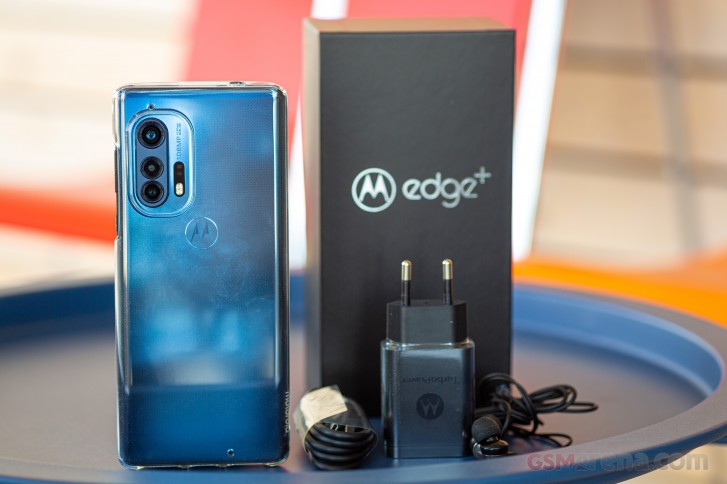 Anyway, getting inside the Edge+ requires some serious heat action to overcome a very strong adhesive. It almost makes it seem as if the phone should have an IP68 rating, but it's only advertised as splash resistant.
We get confirmation that the back is made of glass – Motorola's press materials are a bit ambiguous on the subject. Fast forward a few minutes and the 6000 series aluminum midframe is revealed as well, though on the outside it's covered in some thick coating.
There's a healthy dose of antennas scattered about the place (thanks, 5G), as well as sheets of copper between key components, though there doesn't appear to be any pockets of liquid for heat dissipation. The 108MP camera module is properly huge while the vibration motor is, in fact, tiny – though it does feel nice in our book.
The battery is firmly glued in place too, as was the back panel, making for a tough replacement. The dual-curved display isn't any easier to get at either and in this particular case removing it resulted in damaging it – though it's a safe assumption that under normal circumstances it's already broken if you're attempting to remove it. Here's the entire video for your viewing enjoyment.
Source