The COVID-19 pandemic has affected the majority of industries across the world and the smartphone industry is also feeling its effects. Shipments have fallen, manufacturing is suspended, stores are shut, and product launches have been canceled or delayed.
In a bid to help curb the COVID-19 spread, smartphone brands like Xiaomi and vivo are donating N95 masks to doctors and healthcare workers. And now, Realme and OnePlus have joined the fight by extending the warranties on their products.
Realme's Indian branch has extended the warranty until May 31, 2020 for those products whose warranties expire between March 20, 2020 and April 30, 2020. Additionally, the company has extended the replacement period to 30 days for those products that were purchased between March 15, 2020 and April 30, 2020.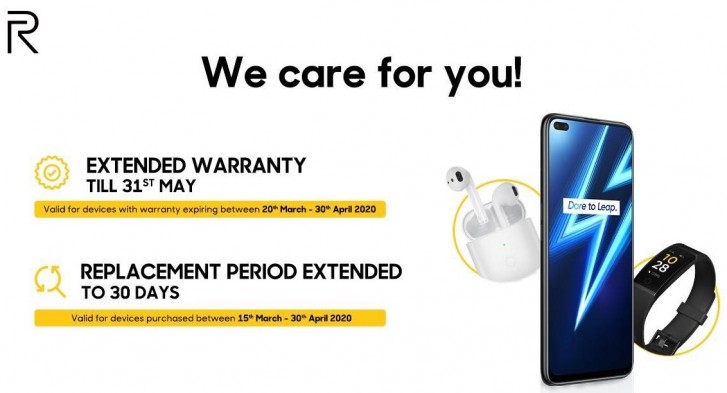 OnePlus, too, has extended the warranty until May 31, 2020 for products in all regions with warranties expiring between March 1, 2020 and May 30, 2020.
Moreover, OnePlus has extended the return and replacement period on its products to 30 days, and it's providing free two-way shipping for all returns, replacements and repairs.
By staying home, you and your community stay safe. We're extending our warranty and updating our returns policy to help you during this time. Visit the forums now to learn more

— OnePlus Support (@OnePlus_Support) March 25, 2020
The company is also working on a back-up device program, as a part of which its customers will be loaned a phone so they can stay connected with others while their phone is out for repair.
This program will be initially available in Europe and North America.