The Realme X50 Pro Player has been spotted running Geekbench 4.4 – as a gaming phone, performance is very important to it. In fact, most of yesterday's teasers were focused on its Snapdragon 865 chipset, LPDDR5 RAM and UFS 3.1 storage.
So, how did it do? Well, it matched the performance of the Realme X50 Pro 5G perfectly, no surprises here as the relevant hardware is almost the same (the UFS version is different, but Geekbench doesn't test storage speed).
GeekBench 4.4 (multi-core)
Higher is better



Realme X50 Pro Player




12829




Realme X50 Pro




12761
GeekBench 4.4 (single-core)
Higher is better



Realme X50 Pro Player




4309




Realme X50 Pro




4305
Peak performance is one thing, sustained performance quite another. To this end, Realme has created a multi-layer cooling solution that includes a vapor chamber and graphite sheets. They cover the chipset completely and help it run 10°C cooler. The vapor chamber covers 1,821mm² while the graphite sheets add up to 9,650mm². HyperBoost will ensure stable frame rates by analyzing both user input and the state of the game.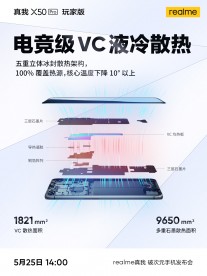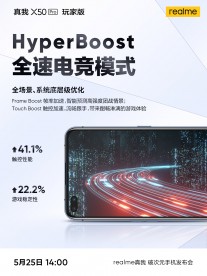 Sustained performance is ensured by an extensive cooling solution and HyperBoost
The whole point of the Player edition is delivering flagship performance at a lower price point – we already know that the regular Pro is a great phone, but it costs CNY 3,600/€600. We've heard that this gaming-focused version of the phone will start at CNY 3,300, but the company is still keeping the price under wraps.
The version tested here packed 12GB of RAM, which is the top-specced model. That would cost more, of course, but TENAA revealed that there will be other configurations – ranging from 6GB of RAM and 128GB storage to 12GB of RAM and 512GB storage.
The Realme X50 Pro Player will be unveiled on May 25 along with eight other products, including the X3 series, a smart TV, a smartwatch and more.
Until then, we'll be getting morsels of info like this: the Player edition will have a game center app, allowing you to manage games and related features from a central place. You will be able to enable "do not disturb" features that block calls and notifications or allow texts and other messages to go through, displayed on a small window with the option to reply without leaving the game.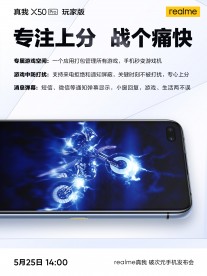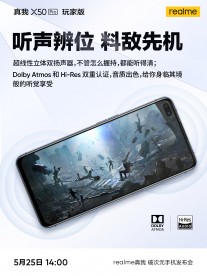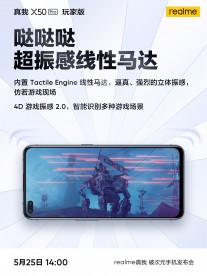 Do Not Disturb modes • Dolby Atmos and Hi-Res audio support • Linear motor for haptic feedback
For added immersion, the phone will pack super linear speakers, it will support Dolby Atmos sound and will come with a Hi-Res audio certification. Additionally, a linear motor will provide 3D haptic feedback.