It has been almost two years since Xiaomi last released a tablet and there has never been a Redmi tablet – this will change on April 27 if these rumors are to be believed. And we're not sure that we should believe them, it sounds too good to be true.
The Redmi Pad 5G will be powered by the Snapdragon 765G chipset, making it one of the first 5G tablets. Those are still pretty rare and there are none in the CNY 2,000 range – that's the alleged price of this tablet and it works out to $285/€260.
The tablet will have a 90Hz screen – also quite rare and even harder to believe at the quoted price point. Plus, it is said to have a 48MP Sony sensor on the back, which would the highest resolution camera on a tablet by far.
The 30W fast charging also sounds quite good, even if there's no mention of the battery capacity. Or the screen size for that matter. This leaked teaser mentions four speakers, plus the specs above and that's about it.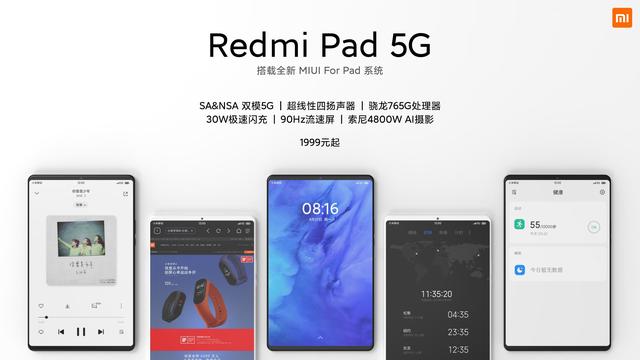 So far Xiaomi has not officially said or teased anything about this tablet. A Xiaomi exec did recently comment on Weibo that the company is not giving up on tablets, but that doesn't mean much.
The Redmi Pad 5G is supposed to be unveiled on April 27 alongside the Mi 10 Youth, which will offer periscope zoom camera at an affordable price point. And 5G connectivity too, in fact it uses the same 765G chipset. So, even if we don't get a new 5G tablet, next Monday will still be pretty exciting.