HMD's ties with the James Bond franchise go beyond the Nokia 8.3 5G starring in the new trailer – the Nokia 6.2 and 7.2 got a 007-branded Kevlar case and it seems that they are not alone. A Kevlar case for the Nokia 5.3 has been spotted in a couple of stores.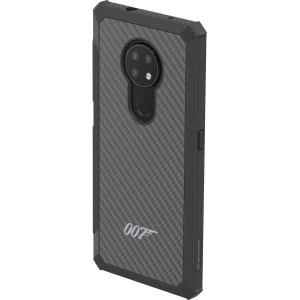 Nokia 6.2 and 7.2 James Bond Kevlar case
One is in Germany, asking €20 for the "James Bond 007" case with delivery time set to around 60 days from now. That's the same price as the 6.2/7.2 case. The other store is Dutch and charges €35 (down from the MSRP or €40, apparently) and is accepting pre-orders without committing to a shipping date.
Neither store features an image of the case itself, but it will probably look very much like the 6.2/7.2 case – angular and covered in Kevlar. The Dutch store features the following (Google-translated) description:
My name is Bond, James Bond. With this Nokia 5.3 case, your smartphone is literally undercover. The Nokia 5.3 Kevlar James Bond case is made of hard plastic and protects the device against scratches and bumps. In addition, the phone case features a kevlar design with 007 logo. This gives the smartphone a tough look. Are you also a fan of the James Bond film series? Then you will certainly hit the bullseye with the Nokia 5.3 James Bond Kevlar case.
The Nokia 5.3 and other "point 3" models are available for pre-order in the UK. The 5.3 specifically is expected early next month and will set you back £150.