The Realme Band is now available in India. It was originally scheduled to become available on the 28th, but Realme doesn't like to keep its fans waiting.
The band can be ordered today from Realme.com, Flipkart and Amazon India at a price of INR 1,500 (half the listed MSRP). Note that only the band is available only Black and Green, the Yellow (which is the brand's signature color) is coming soon.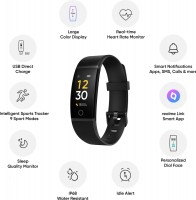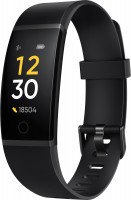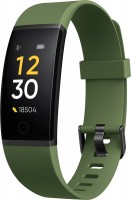 Realme Band features • Black and Green color options
Realme's press release about the launch mentions that the screen brightness has been enhanced – when we reviewed the Realme Band, we found that the screen's legibility outside was quite poor.
It sounds like the the maximum brightness has been increased with a software update (version 6.0), also UI elements have be changed to make them more legible. We have to wonder the extra brightness will do to the battery life (the original version lasted 7 days on our hand).
The heart rate sensor has been touched up to make it more accurate too. The band can notify you when your heart rate goes above or below a certain threshold. Additionally, you get weather info based on your location (again, thanks to a software update).
If you already have a Realme Band, use the smartphone app to check for the v6.0 update.