It's pretty established that one doesn't buy a vivo smartphone in order to get quick Android OS updates. The company has traditionally been among the slowest to deliver these, and the situation is no different with Android 10.
vivo unveiled Funtouch OS 10, the latest iteration of its skin that is based on Android 10, back in December, months after Google initially released the finalized version of the OS. And updates? They've been missing in action so far.
Thankfully, that's going to change real soon. After some delays that have been attributed to the coronavirus, the company has finally announced a revised update timeline for its devices today. Note that this applies to the Chinese market – international models will lag behind as usual.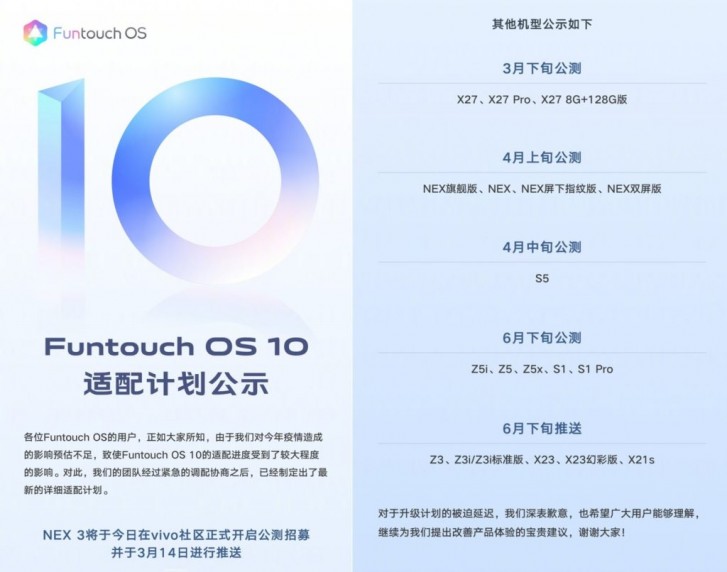 The first models to get a public beta of Funtouch OS 10 with Android 10 are the NEX 3 and NEX 3 5G, on March 14. However, only 4,000 people will receive this, and they have to register first.
Then, in late March, it will spread to the X27 and X27 Pro, followed by the NEX S, NEX A, NEX A with in-display fingerprint sensor, and NEX Dual Display in early April. In mid-April the update will arrive for the vivo S5, while the Z5, Z5i, Z5x, S1, and S1 Pro will see it in late April. The vivo Z3, Z3i, and X23 will have to wait until late June for some reason.
That's it, the entire list of handsets that will be getting Funtouch OS 10 based on Android 10. At least things seem to finally be moving in the right direction now, with updates actually on the way. We'll let you know if anything changes.