HMD decided there's no time to wait for the new Bond film and revealed its first ever 5G phone – the Nokia 8.3 5G. This one also has one of the largest screens of any Nokia (even the Lumia 1520 was smaller), plus it's the first Nokia with a 64MP camera.
And as you can tell by the ZEISS badge in the middle of the quad camera setup, this phone will aim to please cameraphone enthusiasts. Besides the 64MP sensor, the phone also packs a 12MP ultrawide cam (13mm), a 2MP macro cam and a 2MP depth sensor.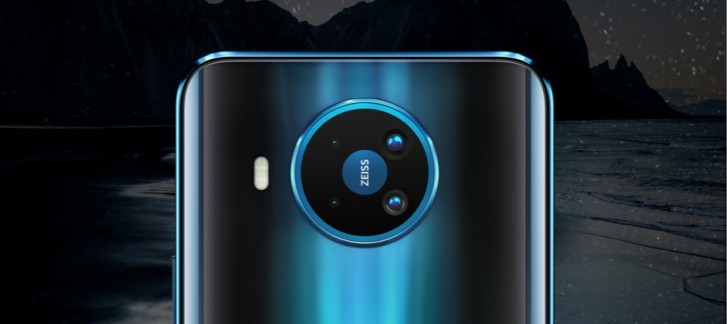 Even though it isn't explicitly branded, the 24MP selfie camera also enjoys ZEISS optics. And while Nokia phones may no longer have exclusivity on ZEISS, the only other option is the pricey Sony Xperia 1 II that isn't even out yet.
The Nokia 8.3 isn't out either, the expected release is in Q2 when the phone will start at €600 for the 6/64GB model (there's an 8/128GB version too, plus a dedicated microSD slot). Is that too pricey? The Xiaomi Mi 10 Lite also packs 5G connectivity and will be €350 when it launches in May.
It may not have the Nokia's brand-name lens, but it does use the same chipset – Snapdragon 765G. The Nokia 8-series no longer has flagship status, there isn't even an in-display fingerprint reader (partially because of the LCD screen).

To be fair to HMD, the company has done good work to maintain the Nokia name and is unrivaled when it comes to Android upgrade for its phones (save for Google's Pixels). Also, it has always been conservative with its choice of chipsets, but that hasn't stopped fans from loving its phones (HMD even turned a profit for the first time in Q4 of last year).
Does the Nokia 8.3 5G justify its price tag or does HMD need to reevaluate its strategy?
How good is the Nokia 8.3 5G?