Facebook's been improving its Messenger app at rapid pace lately. Recently it got Facebook Pay integration and before that speed and footprint improvements.
Now the company has released an update for the children-friendly Messenger Kids app, launched back in 2018. The kid-friendly IM, designed to facilitate parental oversight is getting more security, flexibility and control features in the US and it's finally expanding to other regions. Here is a quick rundown of the new additions: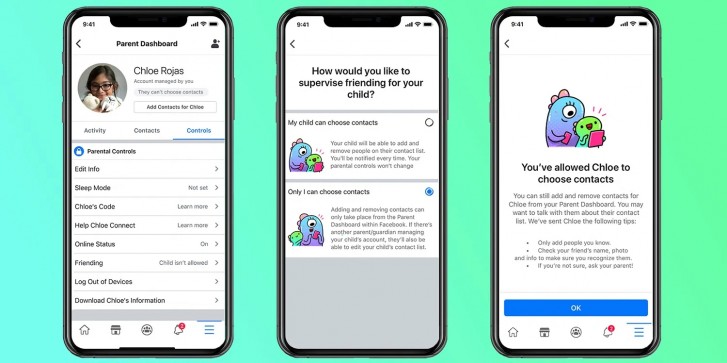 Supervised Friending is meant to replace the current setup, where kids have no ability to add any new contacts, only allowing parents to do so. The new paradigm allows kids to both issue and accept contact invitations. However, this will result in a notification to the parent, complete with the option to override a decision.
Parents have told us they want to be able to give their kids more independence in managing their contact list while still maintaining parental supervision. Previously, it was up to parents to invite and approve every contact for their child. Now with Supervised Friending, parents can choose to allow their kids to also accept, reject, add or remove contacts, while maintaining the ability to override any new contact approvals from the Parent Dashboard. Supervised Friending will start rolling out today in the US and will gradually roll out to the rest of the world…
Approved Adults – This bit allows parent to grant specific individuals the ability to add their children into groups. Clearly intended to facilitate easier gathering with teachers in virtual spaces. Also, potentially useful for all sorts of family exchanges, clubs and extracurricular activities.
Kids often build community through their classes at school, participating in a team sport or other extracurricular activities. Just as parents allow a teacher or coach to help their child navigate classroom or team friendships, this new feature gives parents the choice to approve a similar adult to help connect their child with other kids through a group in Messenger Kids. These approved adults can only connect kids whose parents have also granted this adult the same approval. This feature will be available starting today in the US, and will gradually roll out to the rest of the world. Teachers, coaches, parents and other leaders can access this feature…
Last, but not least Easier connections gives a bit more profile visibility. The parent account can choose to make the child's name and photo visible to a select group of non-contacts.
Parents can now choose to make their kid's name and profile photo visible to friends of their kid's contacts and their parents, kids of the parent's Facebook friends, and kids of people parents invite to download the Messenger Kids app.
The Facebook Messenger Kids app is coming to more than 70 new countries. The current list is available here. For now the newly added countries will be getting the older version of the app. The newer one, complete with the aforementioned features, will only be rolling out gradually to the US, Canada and Latin America, for now, over the next few weeks.