Way before Bixby debuted on the Samsung Galaxy S8, it had another voice assistant called S Voice that debuted on the Samsung Galaxy S III. It wasn't a replacement for Google's voice commands, but it was able to do things like call contacts, set reminders, launch apps, and perform Google searches. It didn't really have any personality or tell any jokes.
As per a report from Sam Mobile, Samsung's S Voice will cease to operate as of June 1, 2020. If you try to use S Voice after June 1, 2020, you'll only receive a response from S Voice that says "I'm unable to process your request. Try again later". We're sure there aren't too many of you who are still using S Voice.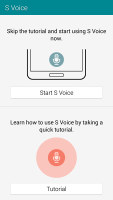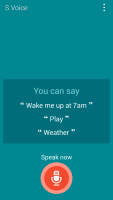 S Voice on Galaxy S5
Models still using S Voice include the Galaxy A3, A5, A7, A8, and A9, the Galaxy Note II, III, 4, 5, and FE, the Galaxy S III, S4, S5, and S6, as well as the Galaxy Note Pro 12.2, Galaxy W, Galaxy Tab 4, and Galaxy Tab S (1st gen).
S Voice wasn't particularly groundbreaking or amazing in any way and as a result, not many folks used it. It would eventually gain voice-activation with the phrase "Hi Galaxy" or any custom phrase. It also found its way into Samsung smartwatches like the Samsung Gear and Gear S lineup as the only way to process voice-to-text replies. These days, all Samsung devices including the Galaxy Watch lineup, and most Samsung Galaxy smartphones are using Bixby.