Apple's cool new Magic Keyboard is reserved only for iPad Pros from 2018 and 2020. If you want a trackpad in your iPad keyboard, but don't have a new Pro, you can look at the Logitech Combo Touch instead.
It supports iPad 10.2, iPad Air (2019) and iPad Pro 10.5 (2017). Logitech will start selling the keyboards in May 2020 at $150 – half of what the Apple keyboard costs. They are not the same, though.
The Combo Touch combines a full-size keyboard with a trackpad. The keys feature scissor mechanism with 1mm travel. There's back-lighting and a row of shortcuts above the number keys.



5 levels of backlight illumination • A row of function keys
The trackpad supports multi-finger gestures and will benefit from the enhanced cursor support in iPadOS. The keyboard attaches to the iPad's Smart Connector, so it doesn't need charging. There's also a holder for an Apple Pencil (1st gen) or Logitech Crayon.
However, the Logitech Combo Touch uses a kickstand, allowing it to hold the tablet tilted at between 20° and 60°, depending on what you are doing, but without the flexibility of Apple's laptop-like hinge. The Magic Keyboard also adds an extra USB-C port, which the Combo Touch lacks.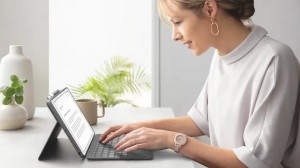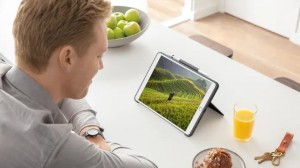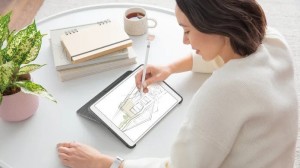 Four ways to use the Logitech Combo Touch case
Still, there's no competition between Logitech and Apple here as they each support different versions of the tablet.
Logitech also has something for the iPad Pro 11 (2018 and 2020) as well as the iPad Pro 12.9 (2018 and 2020). The Slim Folio Pro case is just a keyboard, again with backlit keys with a scissor mechanism.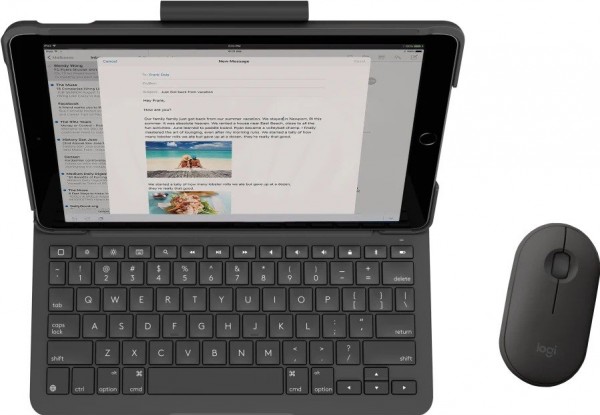 This will be available next month for $120 ($130 for the larger tablets) and you can combine it with the tiny Logitech Pebble i345 mouse ($30), which is compatible with all iPads.